Something I love very much, is Christmas cake, and for me, making our Christmas cake is the start of the festivities. This gluten-free and dairy-free Christmas cake works really well for those with food allergies.
Ideally, you should make your cake at least two months before Christmas but last year I was very last minute and only made ours at the end of November and it worked beautifully and 4 weeks of being fed brandy once a week made it just right for Christmas eating.
You will need to have your oven warm and set to 150 degrees. And a large, round cake tin lined with baking paper. I use an 8-inch diameter cake tin.
We use gluten-free flour, usually from Doves Farm and Pure spread or Vitalite. All of these can be sources from your supermarket.
You will need:
225g gluten-free plain flour
¼ tsp salt
½ tsp mixed spice
½ tsp ground cinnamon
200g dairy-free spread
200g dark brown sugar
2 tbsp black treacle
1 tbsp marmalade
¼ tsp vanilla extract
4 free-range eggs, lightly beaten
800g mixed dried fruits
100g mixed candied peel
150g/5oz glacé cherries, halved
Start by creaming the butter and sugar together until the mixture is paler and fluffy.
Sift the flour and spices and salt into a bowl.
Whisk the eggs together then gradually add them to the butter and sugar mix. Add the vanilla essence, marmalade and black treacle (tip, coat the spoon with a little oil first, the treacle will slide off easily)
Add the flour mix.
Mix thoroughly. Then you can add your nuts and dried fruit.
This is a great cake to make with kids because there is a lot of stirring involved and you need manual labour. It's a good way to keep them busy and make sure the cake is well mixed.
Pour into your lined cake tin and bake in the oven on the middle shelf for 3 hours. A cake tester spike should come out clean, but you may need to give it ten more increments until this happens. Our cake takes 3 hours and ten minutes. You may want to cover the top of the cake with tin foil if you think it is becoming to dark brown.
Leave it to cool then it needs to sit and soak up brandy. I use about 2 tablespoons of brandy a week. To start you need to poke 6 holes in even spacing on the top of the cake and gently sprinkle the brandy over the holes and let the cake drink it up.
If you don't want brandy you can skip this part but I think it makes the cake much moister and tastier.
I wrap mine in greaseproof paper and store it in a baking tin and feed it every week. It will keep for a good long time in the tin 'til you are ready to decorate it or eat it.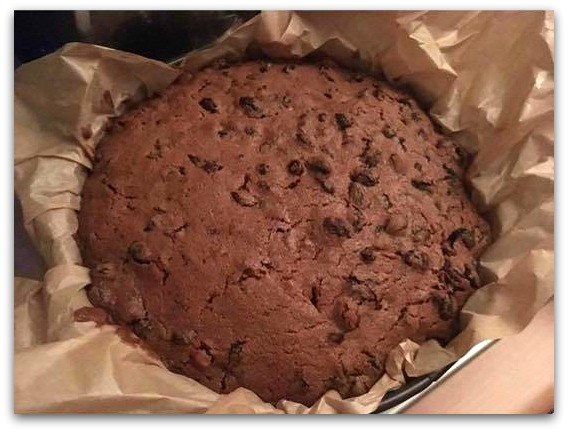 I tend not to decorate my Christmas cake, because our household can't agree on who likes icing and who doesn't like marzipan, we eat ours plain, although I opt for the northern tradition of eating a slice with Wensleydale cheese, which sounds very odd but actually works really well.