*We were kindly given tickets to review this show but all opinions are my own*
A trip to see a pantomime is part of our Christmas traditions and something I love very much. Pantomime is a strange British type of stage play, usually with men dressed up, comic characters, a wicked villain who gets their comeuppance lots of silliness and a feel-good happily ever after ending. This year, however, we enjoyed something a little different in THE FAIRYTALE REVOLUTION – Wendy's Awfully Big Adventure.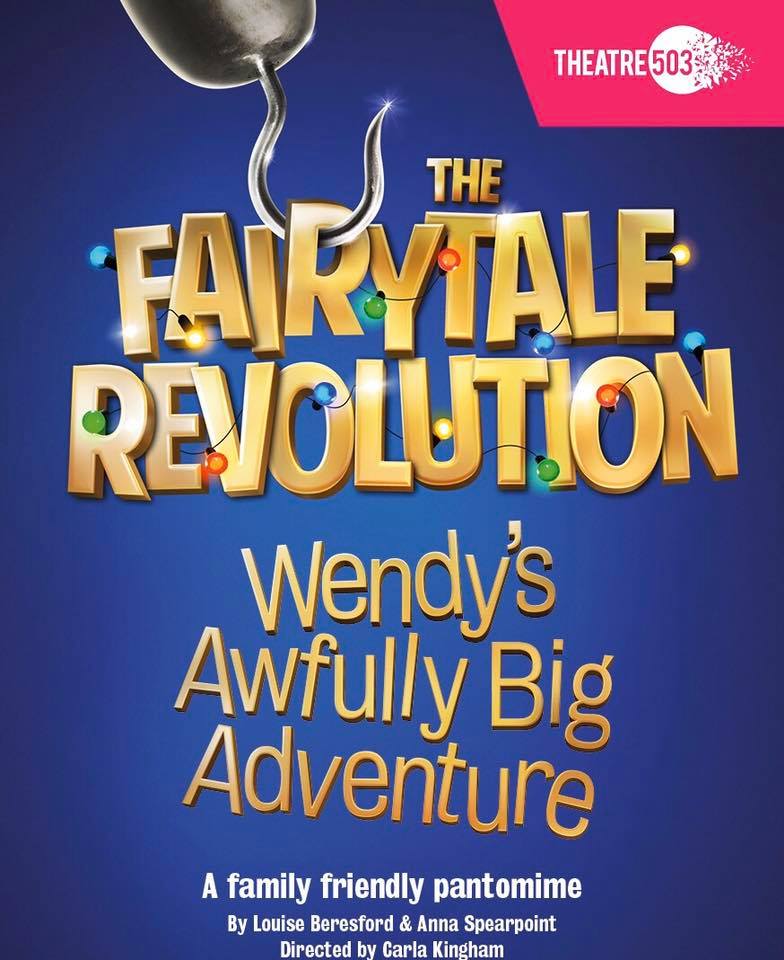 Pantomime usually bases itself around a classic tale, Cinderella, Aladdin, Jack and the Beanstalk, all those favorites which we know well and who's ending we can predict.
The Fairy Tale Revolution – Wendy's Awfully Big Adventure takes a different track but it's done so well that those of us who like our proper happy ending just the way it's written don't mind too much.
The story is based around the character Wendy, from Peter Pan. She is bored with her lot, cleaning up and looking after the Lost Boys and Peter Pan, who don't seem to appreciate her or understand her. She decides she's had enough and wants to make some dramatic changes to her life and have some adventures.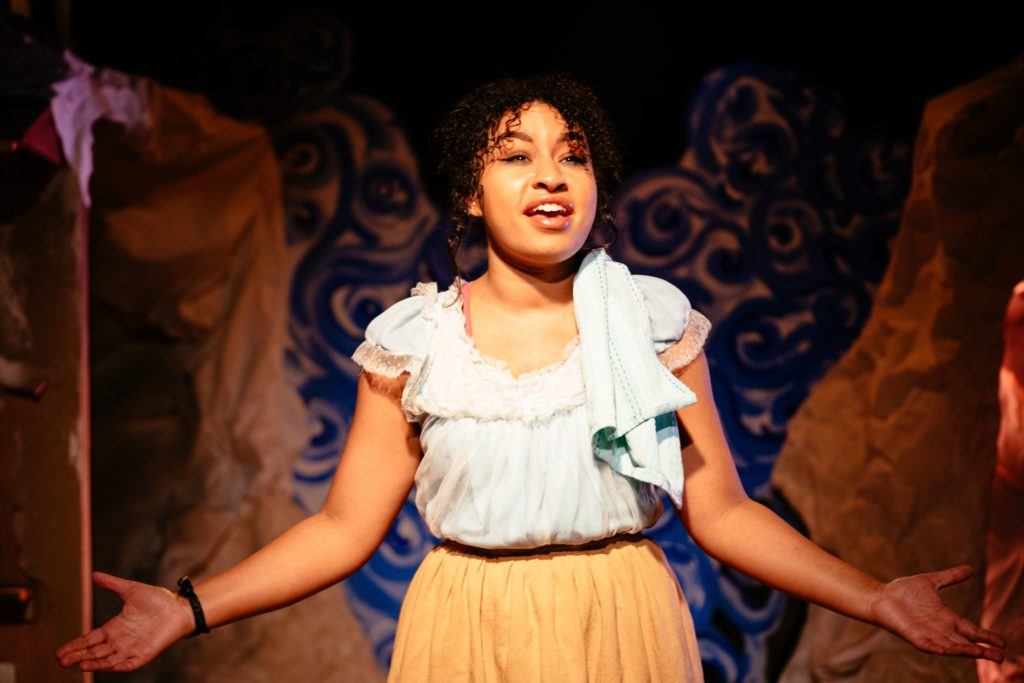 However, because she's supposed to stick to her part, and her storyline, as told by the narrator (the villain in this piece) she meets a lot of resistance and has to work hard to find the way to what she wants and a life that makes her happy. The narrator controls the plot, the storyline, the actions of the characters and doesn't want things to be changed.
Along the way, Wendy teams up with Thumbalina's mother, who was banished from her own story for breaking the narrators rules, a disillusioned Captain Hook (who was my favorite character) who doesn't want to hunt down Peter Pan any more, and just wants to write poetry and has to contend with a hapless Smee who is being manipulated by the narrator into trying to keep the story as it should be and not changed.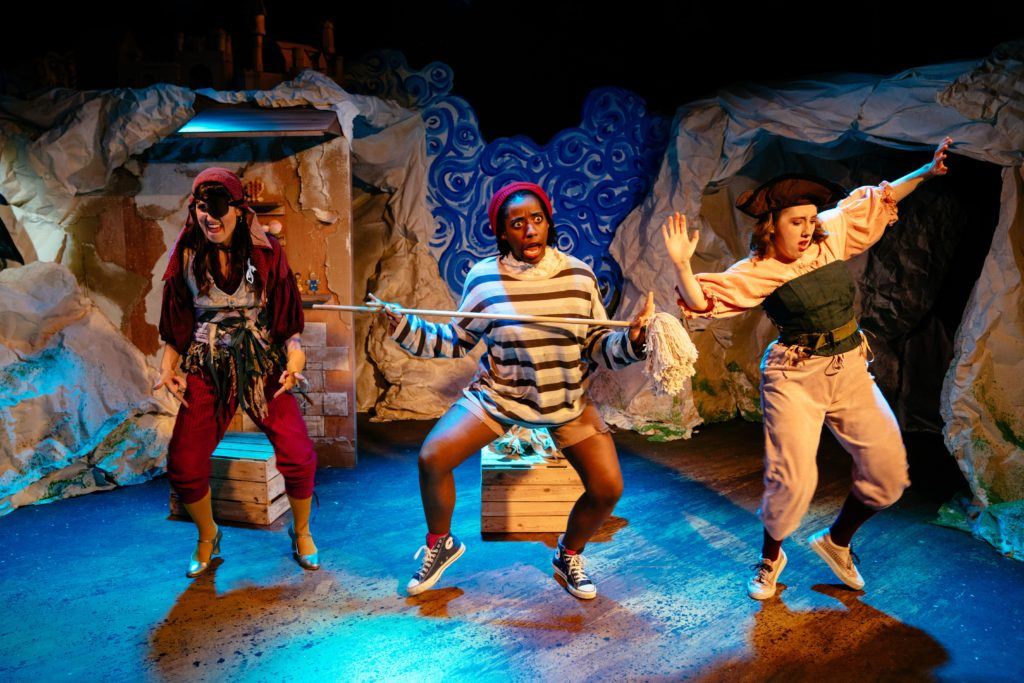 Performed, written and directed by an all-female cast, playing all the parts with a lot of skill and humor, it's a refreshing change from what you normally expect at a pantomime. I like the idea of an all-female cast breaking the traditional mold of what pantomime should be.
It is family-friendly, with the odd cheeky reference dropped in here and there and great for little kids and those of us who like to still pretend we are kids. It's a smaller and more intimate set up in Theatre 503 but it really works. The sets are simple but the acting, improvisation (when the audience doesn't play by the rules) and enthusiasm and skills of the actors makes it a fun-filled and very witty show.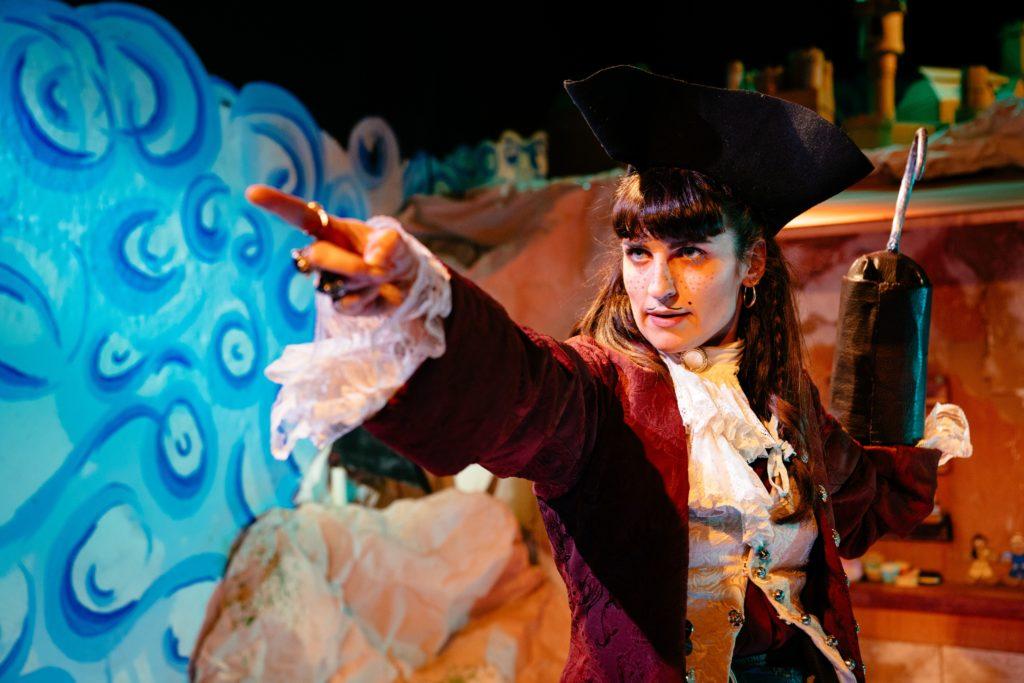 Of course, everyone gets their happy ending but not in the way the narrator wants and there is plenty of audience participation and a moral to the story.
I laughed a lot and thoroughly enjoyed, my teenager, who is hard to amuse these days, says it was "brilliant and very funny" and it has filled my pantomime wish list for this year.
I don't normally want to see a repeat of a panto once I have seen it for the year, but this one I would go back to watch again.
Written by Louise Beresford & Anna Spearpoint. Directed by Carla Kingham, A Fairy Tale Revolution is showing at Theatre 503 in Battersea, it's well worth booking tickets to go and enjoy and is on until the 31st December.