*We were kindly sent some pet feeding kit to try, from PetSafe, all opinions are our own*
Pet feeding is a topic we are very familiar with in this house. With two cats, two giant snails, a hamster, fish AND a leopard gecko, a fair bit of my life revolves around keeping everyone fed, happy and healthy and making sure they all get what they need at the right times. We have had pets since well before we had children, and they are just as much family to us as the human members. You can read Layla's story here, and how she came to us.
As a working parent household, often busy, and also as a family who like to take weekends away for breaks, making sure the pets all get fed is always on my to do list when I am planning to be away. The fish and gecko are easy, because the fish have an automated feeder and the gecko doesn't have to be fed daily and can in fact manage for several days without live food and the hamster also has a special feeder gadget too. If we go away on holiday, we do get a pet sitter to either come and stay or we have family house sit for us, to look after the pets. But for a long day or weekend away, it can be a pain to get someone in, to make sure the cats are fed. They need to be fed twice a day (and let us know, in no uncertain terms that this HAS to happen)
A smart feeder is a brillaint way to solve this problem and PetSafe have one that works beautifully for us.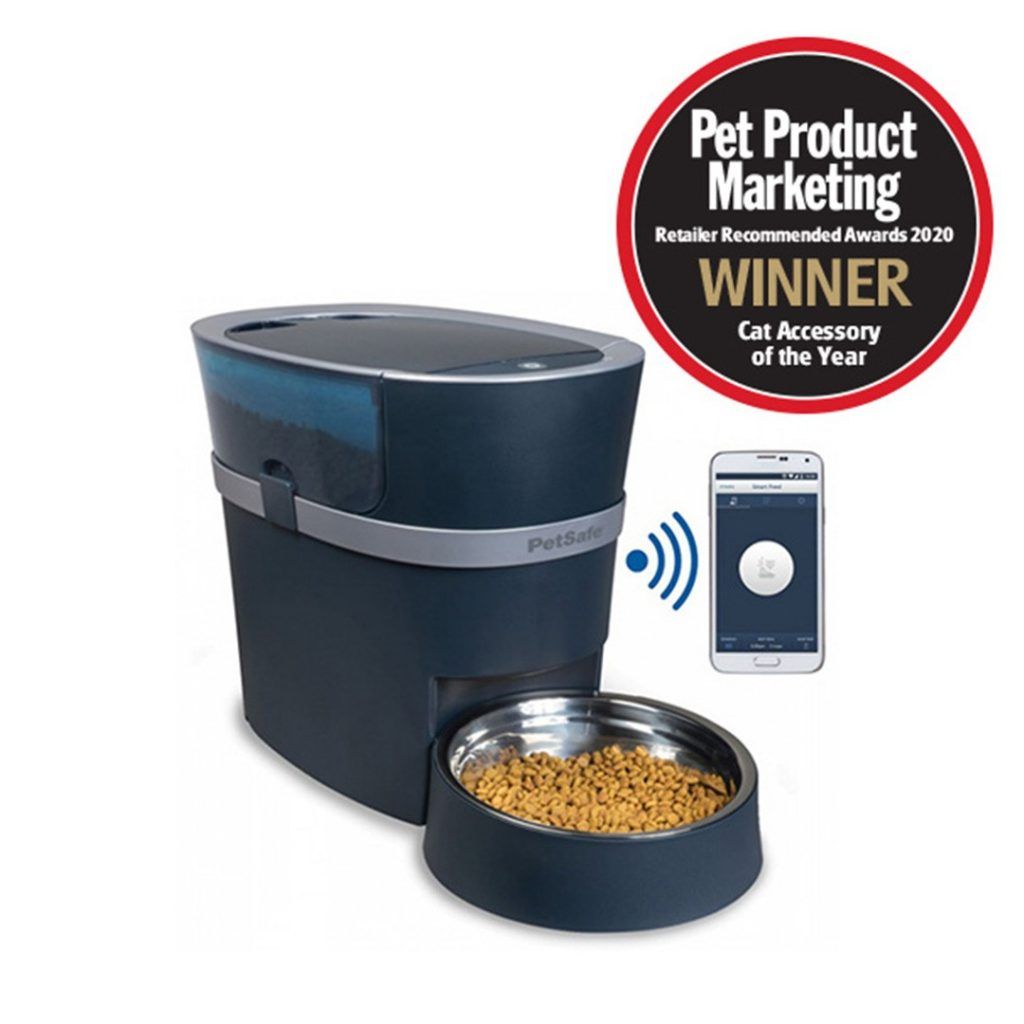 Bring peace of mind to meal time with the PetSafe® Smart Feed Automatic Pet Feeder. Designed by pet parents, you can schedule, monitor and adjust your pet's feeding schedule remotely with the user-friendly smartphone app. Download the free app to your phone or mobile device, connect the feeder to your home's Wi-Fi and enjoy convenient meal scheduling from anywhere. The feeder holds 24 cups (5,678 ml) of dry or semi-moist food. The unique design of the Smart Feed's food conveyor dispenses most shapes and sizes of dry and semi-moist food while helping to prevent jams. Meals can be scheduled for up to 12 times daily in sizes from 1/8 cup (29 ml) to 4 cups (946 ml) per meal. The optional Slow Feed setting dispenses meals in small amounts over 15 minutes for pets who tend to eat too quickly. The Feed Now option lets you serve a meal on demand any time from the app or with the push of a pet-proof button on the feeder. The included stainless steel bowl with a removable holder prevents your pet from tipping or moving the bowl. These components and the upper compartment where food is added are all dishwasher safe, top rack only. The automatic pet feeder includes an AC power adapter and has a backup battery option using 4 D batteries (not included). To connect your PetSafe® Smart Feed Automatic Pet Feeder to your smartphone app, a 2.4GHz (802.11b/g/n) wireless router is required. Devices that work with the mobile app are iPhones or iPods with iOS 9.0 or later and compatible Android smartphones version 6.0 or later. One feeder can be controlled from multiple family members' smartphones. Multiple feeders also can be controlled from one smartphone. PetSafe® brand is here to help you and your pet live happy together™.
Key Features
Smartphone programming – Control your pet's meal time from anywhere using your smartphone; app requires an apple iPhone or iPod device iOS 9.0 or later or a compatible Android smartphone 6.0 or later.
Receive smartphone alerts – Get notified when your pet is fed, the food level is low or the feeder is empty; feeds on schedule as programmed if Wi-Fi connection is lost or feeder is offline.
Customised meal times – Set up to 12 meals to feed on your pet's schedule; Feed Now option allows you to feed your pet outside normal feeding times.
Flexible portions – Meals can be dispensed from 1/8 cup to 4 cups to fit your pet's unique feeding needs; slow feed option allows meals larger than 1/8 cup to dispense slowly over a 15-minute period.
Low Food Sensor – The feeder automatically notifies you when food levels are low; you'll also receive an alert if the hopper becomes empty.
Easy-to-clean – Lid, hopper, bowl and bowl holder are top-shelf dishwasher-safe for convenient cleaning; best for cats and small or medium dogs.
We are pet lovers in this house but we are also tech geeks, so this is right up our street, with it's clever and secure use of wifi and an app to control it.
It's REALLY easy to set up, and you can either plug it in so it's mains powered, or use batteries if you prefer. You simply add the desired food, set it up to run, download the app and connect your phone or other device to it, and programme it for when you want to feed your pets and how much. You can set the schedule, for little and often or more food at longer intervals.
It's easy to clean and operate and fits neatly into the corner of a room, or in a utility space or kitchen. I have shared a bit about it in a little video. Please be warned, I am not a vlogger, we do keeping it real around here, but you can see how it works, how easy it is to fit it into your kitchen, and also how it dispenses food.
The husband, an engineer, is very impressed with how efficiently it works, and how easy it is to set up, and also to use remotely. So if we went out for the day, and are delayed coming home, we can use the app to connect to the Smart Feeder and dispense some food, so we don't come home to hungry and sad cats. He also secretly likes it because it means that if the cats decide to pull an early wake up call on us (they like to do this,I usually pretend to be asleep when this happens, payback for when he slept through babies waking up!) he can simply use the app to make sure they have some food, without even having to get out of bed. This makes him VERY happy.
It's well worth investing in a good quality pet feeder and we think this one from PetSafe ticks all the boxes. It gives us peace of mind, knowing the cats can be safely and easily fed. It's convenient, works well with the app and even the kids can use it.
But the most important thing?
What do the cats think?
I was a little worried that Layla wouldn't be impressed, she's older and more set in her ways. However she does love her biscuits so food wins and she happily uses the machine. She doesn't even mind when it activiates and dispenses. (it's not too noisy or startling, and works snoothly)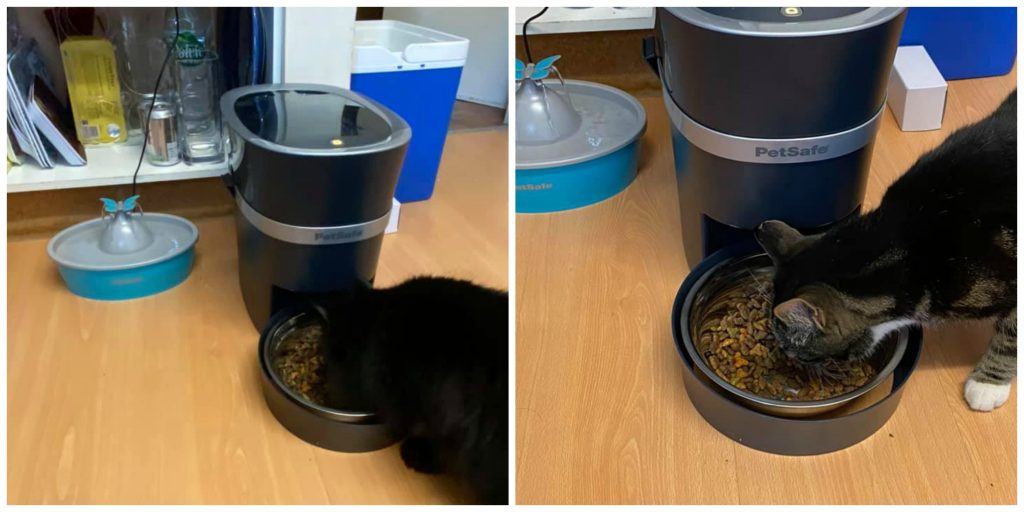 And as for Jasper, he thinks anything that dispenses food is pawsome. He's motivated by his tummy (it's handy for kitties, that ahem, might need to be on a programme where they eat less food, too, you can work with your vet on portion control and meal times and manage how much and when they eat)
A win all round, pet feeding problems solved, happy pets, happy pet owners.