If you have cats, then you probably change their cat litter, and you may also need or use kitty litter freshener.
Most cat owners clean out their cat litter trays regularly. Unless you have one of the very fancy self cleaning ones (we tried, Layla refused to use it) then you will be, like me, scooping poops, cleaning out clumps and emptying and cleaning the tray regualrly. It's not the best job in the world, but if you want to keep your cat healthy and happy then you know it needs to be done. We use an environmentally friendly one that works well for Layla and I like for it's effectiveness but I always have a jar of kitty litter freshener to hand for those times when it needs a little help.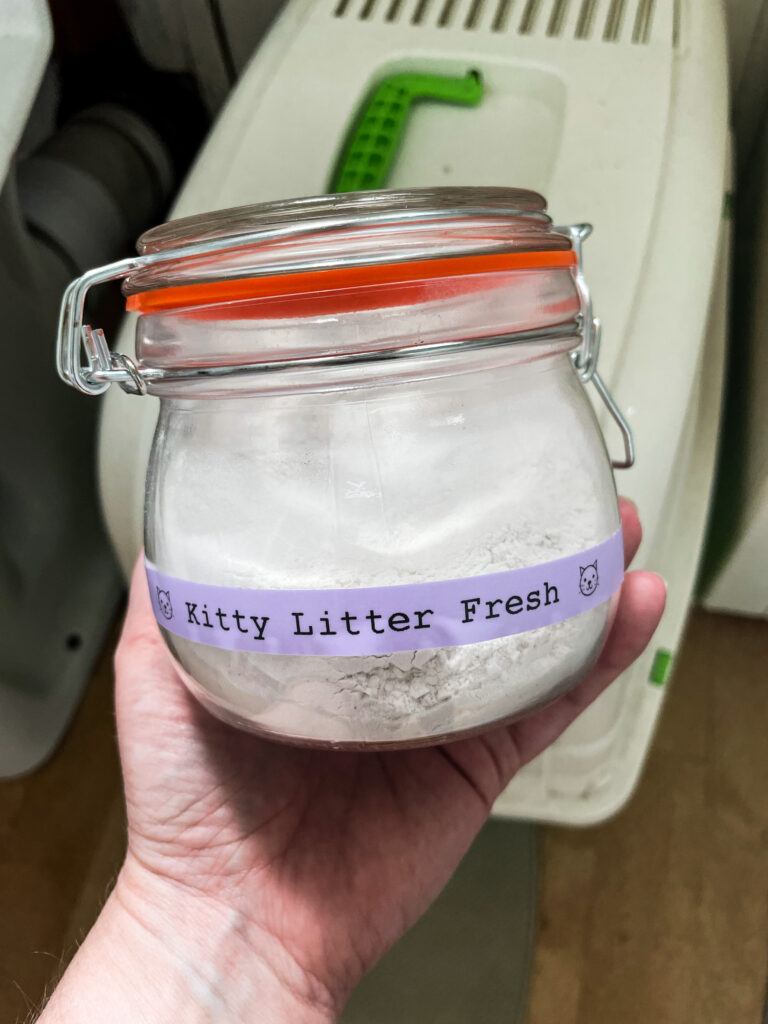 This is easy to make and is only two ingredients.
I use two cups of calcium carbonate mixed with one cup of sodium bicarbonate, in a sealed jar. Shake it well and then wehn you need it, simply take a small scoop – one to two tablespoons at a time works and sprinkle it in your kitty litter tray. The calcium carbobate and sodium bicorbonate (usually avaiblabe from hardware stores or supermarkets) work to absorb odour and help to freshen up the tray. Niether are harmful to cats (I have checked with our vet) and both can be rinsed away when you wash the tray out and don't add nasty chemicals to your local water.
Some people choose to use essential oils to freshen their cat litter tray but having done a lot of researrch and spoken to our vet, I don't feel there are many that are safe for cats so we choose not to. Please check carefully if you do use essential oils as many are dangerous or harmful to pets if they ingest them.
So if whiffy kitty litter is an issue for you and you don't like commercial kitty litter then why not make your own? It's easy and much better for the environment too, and you can put it in a pretty jar on your bathroom shelf for easy use.