This week, frankly, it's all been a bit much and this is a two week dump of our week in photos and what we have been up to or not.
Life feels a bit strange right now. As we adjust to Covid rules changing (and we watch and wait and see if yet another variant that has arrived in the UK causes us more issues or less) it's rather tiring but also a little relentless. It's not one big thing, but lots of little things, that have made us feel fed up, anxious, annoyed and like we need life to just give things a break. It's like being spiked with lots of prickles continually rather than one big thorn, that you deal with and move on from.
So we are feeling like our headspace is crowded, and because we don't have much support here locally to us and the very small circle of people we do lean on also have their own prickles and thorns to be dealing with, we plod on, mostly just propping each other up and smiling through each thing and asking each other "are we having fun yet?".
We actually need a holiday, something we rely heavily on to refresh us, each year, but of course that didn't happen last year, and won't be happenign this year. We won't be travelling abroad (mainly because we both think international travel when the Covid19 pandemic is still a big problem, isn't a sensible plan, and we don't want to deal with the logistics of vaccine passports, Covid tests, possibly quarantines at the last minute and the hassle and expense of a holiday during this time) and at the moment it feels like we won't get a break at all or much relax time as a family. But then, we aren't alone in this, many people face much worse and more challenign things, so we will plan as gentle a summer as we can and hope we can go away, perhaps next Easter.
It all feels a bit like crawling through mud right now, so I do apologise for the slight pity party post.
We have had a busy two weeks, with some illness thrown in for fun. Not Covid19, at least but an infected tooth and spider bite and the teen reacting to her HPV vaccine and feeling unwell for a day or two (not a vaccine I had so I had no idea it could make you feel so rough, half her class were apparently "dying" for two days after they had it) and the husband has started the slow process of going back to work in real life and not at home which is a big change for all of us. For his mental health, he needs to be back in the office for a day or two a week, but we have to adjust after having him at home for a year. He is quite handy to have around, and we miss him when he's not here. He won't be back at work full time in the office at all any time soon but one or two days a week is good for him and he is happy which is good for all of us.
I actually haven't taken many photos this week, or they have been random ones that are not really blog-worthy. We have been having fun over on TikTok again, sharing a few animal videos, so if you like it there, go find us and follow us, we do follow back. But this photo made me smile a lot. It's our leopard gecko, who is now two years old and very cheeky and funny.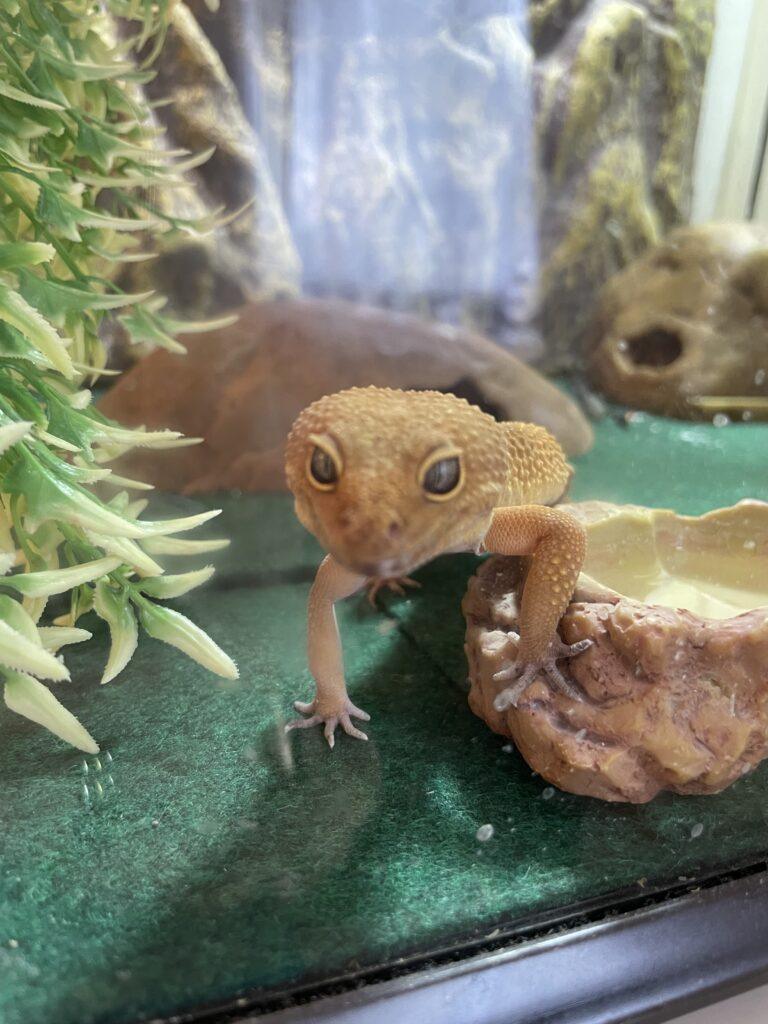 So, yes, it's all been a bit much this week, but we keep calm and carry on and hopefully summer weather will arrive and we can start to enjoy things as we are allowed to do more.
How has your week been?