We make carbonara round here and love it. Because carbonara is made with  pecorino which is a sheep's milk cheese and my husband isn't allergic to that, it means he can enjoy carbonara if we source really good gluten free pasta. So that's what we do. Carbonara, properly made, doesn't need cream or anything to make it creamy, the egg yolks and pecorino combined with the hot pasta and a little pasta water do the job perfectly and that's the way it should be made. The Pasta Queen, on Tiktok has a proper Italian recipe too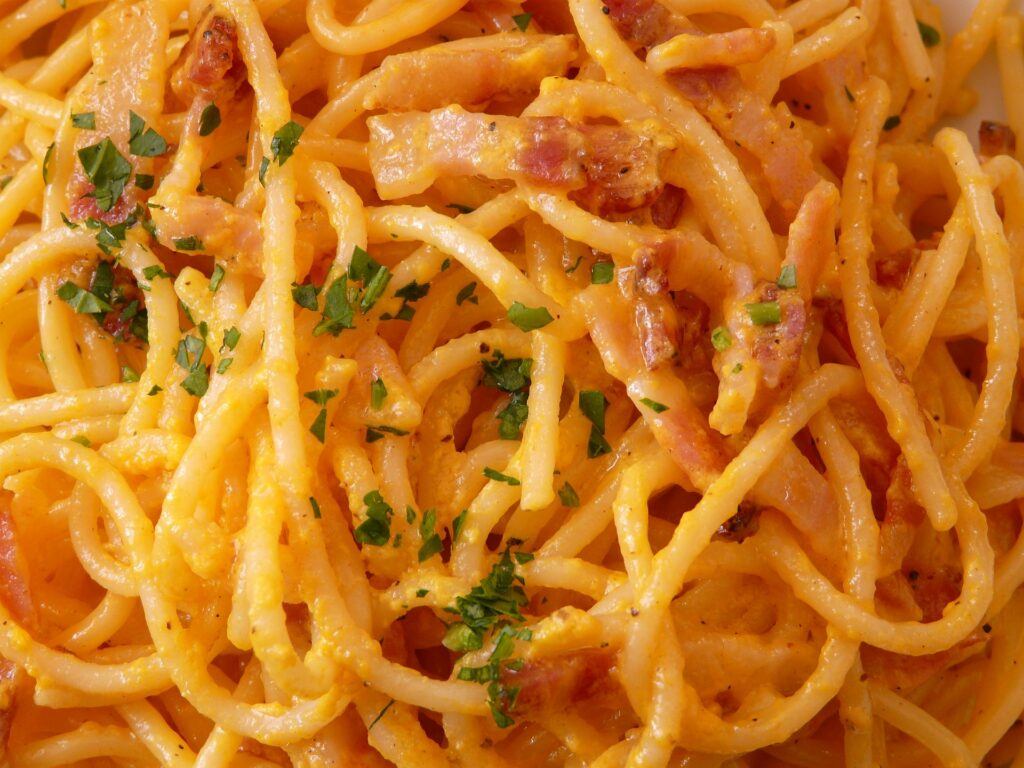 You need
150g of chopped bacon lardons
100g pecorino cheese
3 large egg yolks separated from the whites (save those and use them for other recipes)
350g spaghetti – we use this one, which works well
 garlic cloves mashed finely with a tiny pinch of salt
Good olive oil
Method
Gently fry the lardons or bacon cubes in the oil with the garlic, in a hot pan, until starting to crisp and turn golden. Meanwhile, whisk the egg yolk and pecorino together until it is combined and creamy
Cook your pasta as per the instructions on the packet. Drain but keep a half a cup of the pasta water aside.
Put the pasta back in the pan and add in the egg/cheese mix and stir it in, with a low heat under the pan, and ass a little bit of pasta water until it starts to look creamy and smooth.
Toss in your bacon lardons and stir again.
Serve immediately. Try not to lick the plate, it's so good. 
If you prefer a vegan pasta sauce, why not try my vegan pesto, which is also a firm favourite around here too.