This is a collaborative post sharing a lovely book to help kids understand recycling and learn more about why and how we recycle.
If you are looking for a gentle but also really thorough children's book to explain to kids how recycling works and help you and your family learn more, then this lovely book by Gaga Mo (Mo Simpson) is a great start.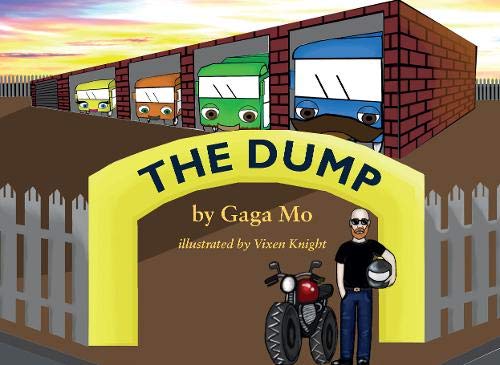 It's a cleverly written box, shared from the perspective of Mr Simpson who runs a "dump" where people bring their rubbish and unwanted items to be recycled. He decides what his team of trucks will do each day and they all work together to help collect rubbish, keep the streets clean and deal with everything that comes back to the dump. The message is about recycling, and how it all happens and what can and can't be recycled.
Each truck has it's own job and they all work hard to get the job done and deal with all the things people throw away. They are trying to keep life cleaner, tidier and look after our planet.
It's probably easier for older children to read this book with an adult but you can read this with younger children too, and it's a great book for schools or nurseries to provoke discussion with your kids and to help them learn what happens to our rubbish when we throw it away or take it to a recycling centre. What do we throw away? Where does it go? what happens to it? What can we recycle and what happens to things that can't be recycled or repurposed. Can we help the team at the dump do their jobs? Are there things we throw away that we could be recycling or reusing? Lots of thought provoking things to consider.
The illustrations are clever and child friendly and the writing is impactful but also child friendly.
As the world realises and is waking up to the harsh reality that our planet needs us to work really hard to repair some of the damage we have done to it with waste, plastic polluting the environment and a lot of mess we have created, books like The Dump are helpful for both adults and children to work on what they can do, even if it's little steps. We all can make a difference if we work together, which is definitely the message in this book.
If you want to help kids understand recycling and learn about how we can make a difference and reduce our impact then this is a good book to start with. We would highly recommend it and think it's a great resource to make a start or reinforce the message we all need to learn and act on.
You can find out below how to order the book or you can get your hands on a copy here too.