This is a collaborative post sharing some tips and tricks I have found might be helpful for getting ready for prom with your teenager. It feels like it's been a long time since I had my own prom, or back then, it was called "the sixth form ball" because I went to school in Scotland, and it was a different system. If I said I feel really old as we navigate this process, I wouldn't be joking. But it's been fun as well.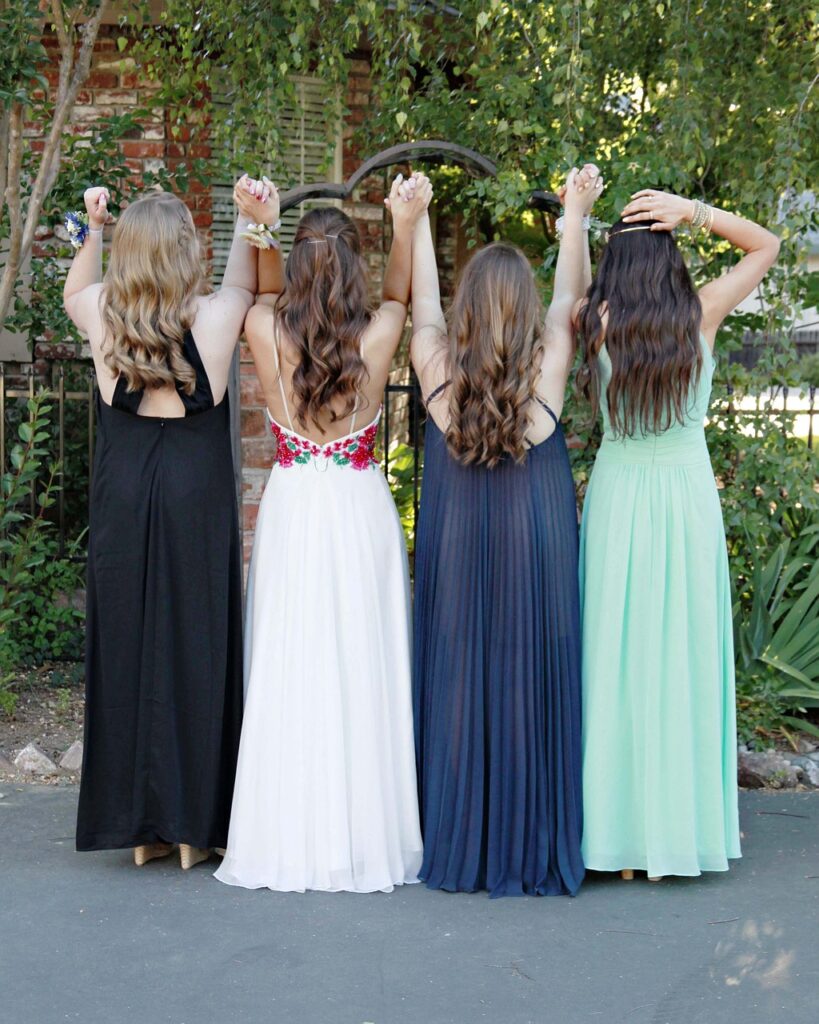 I don't think I was ready to have a teenage daughter about to go to her first prom dance at school, but that time seems to have arrived, and we have managed it smoothly, so far and she and I are still speaking, and we have managed to find a beautiful dress that she looks gorgeous in and is happy with.
To be honest, the dress buying part of getting ready for prom was the least challenging part of the process. She knew EXACTLY what she wanted, from style to colour, so all we really had to do was to find something within our budget and in her size. We did a bit of online research and some trying on, in a couple of shops, and then we ordered two dresses so try on at home and had a backup plan if those weren't suitable. The dresses arrived, she tried both on, and decided she was happy with one. No alterations needed, and it fitted beautifully.
Job done.
Or not quite..
We still had hair, nails, and accessories to sort.
Hair and nails booked.
Accessories and most importantly shoes needed to be sorted. We managed to get a bag, and some pretty jewellery she was happy with.
Last but not least? Shoes…
She is very tall, at almost five foot ten, and she isn't a fan of very high heeled shoes, but she wanted some shoes that would go with her dress and add the finishing touch to her outfit. I thought it would be easy, but it was trickier than I thought. She needed a shoe with heels but also something comfortable.
We eventually narrowed down a range of shoes online and ordered a few pairs to try on at home.
She wanted something with closed toes but was also very specific style wise. High heel shoes can be trickier to decide on until you have worn them and feel how they fit but we found two pairs she liked, and after a bit of back and forth about comfort, style, and ability to dance, we chose a final pair. She was happy, the budget was kept within its limits, and she was good to go.
It's a bit trickier shopping with a teenager for an event like this. I would say the best thing to do and to bear in mind is that:
Your child's style and taste may be different from yours. That's ok. It is ok to have an opinion, but you must remember that it's their prom and their dress and they have to feel confident and happy in the outfit they have chosen. It may not be what you would wear but that is ok. Take a breath and be willing to compromise.
It's fine to have a budget and to stick to it and be up front about that. Your child may say "x's mum spent x amount" but you need to do what works for your budget, not someone else's. You could save for a few months for shopping for prom which might make it less strain on the budget too.
Hire a dress if buying one is proving tricky. However, I will say that we felt that wasn't going to work for us, because she knew exactly what she wanted and hire places didn't have that.
There are specific sites for prom dresses but be wary. Some of them will make you offers or deals on dresses, but they aren't always a good deal. If you are looking for a custom-made dress, they are a good option but again, check the terms and conditions if you have a dress custom made.
It is ok to offer advice on what is suitable and not. We are not super strict, but I wasn't prepared to allow very low-cut dresses or very revealing dresses. That is, of course, a personal preference but we were clear about that at the start.
Boost their confidence, compliment them, encourage them, be positive and supportive. This is special event, but it can be a bit anxiety inducing, so your job is to be their biggest cheerleader as they go off to enjoy themselves hopefully feeling amazing.
It's a big milestone, and I enjoyed planning and getting her ready for the big event, much more than I thought I would, because it went so smoothly. I will admit I shed a few tears after she went, and spent a few minutes wondering how my baby was big enough to be dressed up and going off to a dance, but that I guess is all part of the journey, isn't it?
What tips do you have for getting ready for prom?