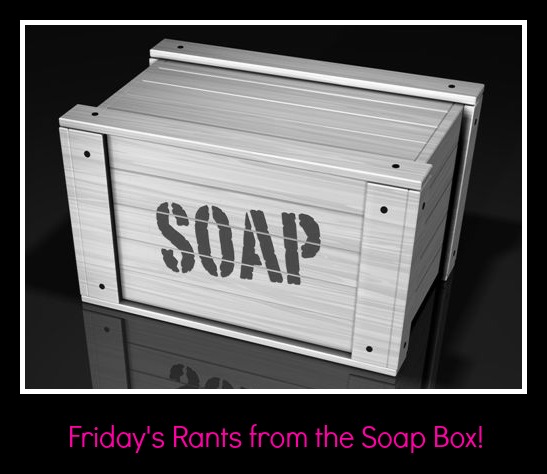 Welcome to my Friday's Rants from the Soap Box in my Living Room. A small space in the week where I can have a chunter about things that have made me twitch with annoyance or made me question if the world has gone mad or not….
I also  linked up with MummyBarrow for her Ranty Friday. You can find her blog and link up here if you'd like to join in. A good rant can be therapeutic. Click on the link at the end to join in!
Last week, LSH and I went to see the new Star Trek movie, at the cinema. We thoroughly enjoyed it, we are both geeks and love Star Trek, and we had a really nice evening out. I am now going to confess, that we are one of "those" couples, that takes their own snacks, to the cinema, and you can gasp in horror or cluck at our being tightwads if you like, but it's my rant, so bear with me.
We go to the movies. We pay the full price for the tickets £10.70 each. which is £21.40, we then pay for popcorn, or a hot dog, nachos, sweets, and a drink. If we had bought a large cola and popcorn, each, it would have cost us nearly £15! You add that to the cost of the tickets and you are at £35. Plus the cost of a babysitter and petrol and you have an expensive evening out. Don't get me wrong, I love going to the movies, and it is a treat for us, but we aren't made of money, and to pay so much for popcorn and a fizzy drink, seems outrageous to me.
I posted the question on Facebook, and one or two friends pointed out that the cinema companies have the right to charge what they do, they have to make  a profit etc. and if they didn't mark up the costs of snacks by so much, they wouldn't make any money. I cannot believe this is true? To charge nearly a 600% mark up for a drink and popcorn, is utterly insane. They wonder why we bring our own snacks, which cost us less than £5?
I have to wonder, if they need to look at why they aren't making a profit, if they have to slam such high charges for food and drink  in order to survive? If we want to watch a movie at home, on our wide-screen TV, we pay anything between £2-4 for the movie, downloading it for 48 hours from our cable provider, then I make popcorn (costs less than £1 for a pack of popping corn) and we buy sweets or treats from the supermarket. It isn't a big screen experience, I will admit, but when you are on a budget, and have other things to spend your money on, it must be understandable? People, in this current financial climate don't have the  money to spend on expensive snacks. If we are going to spend so much money, on "food", I would rather go to a decent restaurant, where I can sit, eat and enjoy what I am paying for, not fork out for not particularly good popcorn, pay almost £4 for a bottle of water to wash it down with….
Am I wrong? Is it acceptable for them to charge so much? Is it really worth it? Are you a secret cinema snack bringer too like us? Do you work for the cinema and have a really good explanation for how the prices of snacks are set? I'd like to hear your thoughts?