This is one of my parenting confession  posts, where I spill the beans on a parenting foible or failure, I have experienced or feel that I want to share!
As the title says. I hate crafts, and craft related activities.
That sounds a little extreme, and probably is slightly exaggerated, but I really do not like, or enjoy craft activities, particularly with children.
I am not creative, I don't have an eye for making pretty things, or whipping a lot of pretty paper, beads and glue into a marvellous creation that is fit for Pinterest. I love watching other people create things, with much envy, and wistfully wish that I had their skills, but as hard as I have tried, it is never going to happen for me. I have been told many a time, that I COULD be creative if I wanted to, but really, truly I can't
Don't get me wrong. We do creative things, the children and I. We bake, we make Lego/sticklebrick towers, I draw for them, so they can colour in, and decorate my artistic attempts, we do play dough, and other activities, when they want to paint, I set up an easel, put pots of paint out, and let them merrily slosh and splodge away, but when it comes to anything artsty-crafty, making pretty things,  I leave that to other people. Big Girl is very creative, and has lots of craft kits and materials, and will happily make beautiful items, which I proudly festoon or perch around the house, but if she asks me to help her, the session usually ends with her getting cross with me, because I simply am not up to the job.  They don't seem to mind my lack of creative crafting skills, much, though,  and we do send Big Girl to our local art workshop, where she is able to craft, create, play with beads, macramé, craft paper, stamps and ink, and all manner of goodies, to her heart's content.
I do occasionally relent, and we attempt a craft, and if it is a short, easy thing, with simple instructions and preferably not too much glue, glitter or artistic eye required, then I can manage it. This weekend, we went to Ham House, for a Father's Day tea, and they had a crown making workshop happening, which both children and I enjoyed. It was short, easy, and uncomplicated, and they both came away, very proud of their creations! I am secretly hoping that as Big Girl gets bigger, she will take over any craft requirements, and be the teacher and maker. She is very patient, and tolerant, and a good teacher, she was helping her little brother so beautifully with sticking sequins and pompoms on his crown, far better than me, even though I did try to help a bit.
So, there you have it, I am not a crafty, creative Mama. I don't enjoy it, my children get cross with me, when we try craft activities, and most of the items I produce end up heading towards the dustbin. I did feel guilty for a long time, and tried to make an effort to be more crafty, and still occasionally linger, looking longingly at the fabulous efforts people put on Pinterest, and at all the hundreds of suggested craft activities for children, but I am over the guilt, now, we do plenty of other things, instead, and I don't think the children are missing out that much. They certainly haven't inherited my phobia of all things glittery, as you can see from the pictures!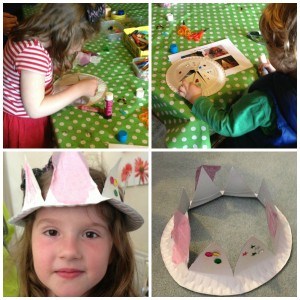 There must be other parents out there who don't love craft activities? I know there are? Please don't make me feel alone in my fear of macramé and Paper Mache? 🙂