Let's talk about my mid-life crisis nose piercing…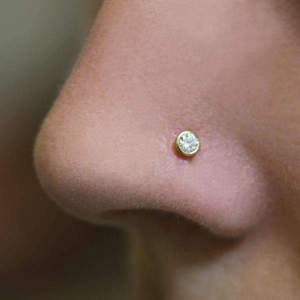 Yes, I did it, after talking about it for months, probably years. I went with a lovely friend, who is celebrating a very hard-earned weight loss goal, and she got her nose pierced, and so did I, and another friend had her ears pierced.
Before you ask, there may be a teeny hint of mid-life crisis, here, but not much. I have wanted to have my nose pierced since I was 12. I was not allowed to have it done at school, my parents were not keen (although my mother always said when I was old enough, she thought a tiny diamond stud would look nice if I did have it done. I reckon she would secretly quite like it) and then when I went to nursing college and then onto work in paediatric theatres at Great Ormond Street, it would have had to have been covered with tape, or not worn (which wouldn't have worked, for it to heal) and then I decided I would probably never have it done and gave up thinking about it, until this year, near my birthday (I am not quite 40 but it is looming in the non too distant future) I casually mentioned to LSH that I would like to get my nose pierced.
He was not keen at first, but with bit of thought, he came to the conclusion that he had bigger things to worry about and it was my nose and face after all. He was concerned about how it would look and safety and hygiene, but was reassured when I explained I had done my research, found an excellent Piercing&Tattoo studio and wanted to go ahead.
For one reason or another, it kept getting put off, and I was also slightly scared that it would hurt too much. But today, spurred and supported by my friends, I went, braved it and had it done. It stung a wee bit when the lady used the needle to pierce and it was a rather large needle (I did look) but it was all over in about 30 seconds, and she was so good, and so fast and really lovely. I didn't faint or throw up.
I really like it, and feel like I have done something I have always wanted to do. If I decided to take it out, it will heal and grow over, no harm done, and I am not going to be wearing huge rings or hoops. Just a tiny diamond stud, eventually, when it heals.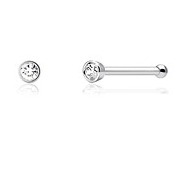 The only person who really disapproves (even my Dad has come round) is my almost 7-year-old. She was horrified when I told her I was going to do it, and when I collected her from school today, and she saw it, the look and eye roll had to be seen to be believed. She did think I was quite brave when I told her what they actually had to do (and firmly told me "I am NEVER having that done, Mum") and is slowly coming round to the idea, and Small Boy keeps trying to touch it and calls it "the hole in your nose".
So, there you have it, my nose piercing, as you do, at lunchtime, on a Monday and it's only been a 25-year wait. Mid-life crisis incoming…