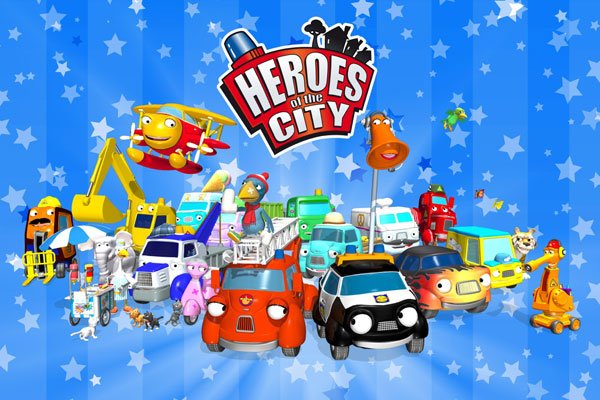 When I was asked if Little Man wanted to take part in helping me review an app for Heroes in the City, for my iphone, I was quite interested, and he of course was very enthusiastic. He's pretty competent at using the features on my phone, which sometimes scares me, a little, but we like trying out new apps and games. We don't let the children use our smartphones or tablet devices too much, but it comes in handy to have some apps and activities they like, to keep them enterained occasionally, and we like apps that are child friendly as well as educational.
Heroes of the City, is a whole series based on cars, trucks and other vehicles as well as some animals.
"Heroes of the City is a television cartoon about rescue vehicles in a small town where everyone can be a hero!
 Follow the fantastically exciting adventures along with friends in town.
Meet Pauli Police Car and Fiona Fire Engine as they help the townspeople find thieves, put out fires, and solve one of the many mysteries that happen in the otherwise quiet town.
You will also get to know Calamity Crow, the most unlucky bird in town. Emphasizing friendship, Heroes of the City contains a great deal of warmth and what may be accomplished by helping each other. The cartoon is primarily targeted at children aged 3– 7. "
We were sent the Book App to try out, and Little Man LOVES it. He figured out how to use it, with very little input from me (although, of course, I did have good look at the app before I let him loose with it, just to check it and also see what we were going to be trying) and he loves the movies, and the games. The stories are simple, child friendly and fun. I am not really a kids cartoon watcher, but they definitely appeal to my 3.5 year old, and also we have had a couple of friends children watch the movies too, and they seemed very absorbed in them.

I think we like the app because of it's simplicity and ease of use, and that it is totally safe for a child. We have used it when waiting for meals in restaurants (headphones come in handy here too, so we don't disturb other people) and whilst on long bus journeys. It makes a healthy change from CBeebies, too! 🙂 It's very colourful, and each story ends on a happy note, and the characters seem engaging and funny. Little Man asks to watch it all the time, and I must admit, it's my go to "app" at the moment.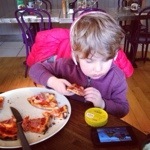 In the Book App you get –
An exciting books for Toddlers with stories, games and movies.
This is a perfect toddler book-app for the smaller children. Follow the fantastically exciting adventures along with friends in Heroes of the City. Choose to get the story read to you or to read yourself. 
Discover lots of fun sounds and melodies with a simple press on the pictures.
Features:
12 stories
2 games

1 movie trailer
One book, one game and a movie trailer for free.
The App is available on Google Play and also in the Apple App store.
We have a Heroes in the City Bundle to give away.
A Heroes in the City Adventure Book, Heroes in the City DVD and a Die Cast Model of Tilly Tractor. If you would like to enter to win, click on the link below for lots of entry options.
*This was a review post. All thoughts and opinions are my own, and Little Man's. Some descriptions and information taken from the Heroes in the City website. We were sent the app to review*