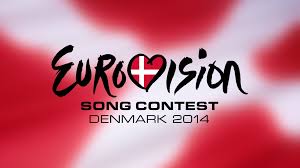 So, having seen some very grumpy, uncharitable remarks on social media today about how rubbish and pointless Eurovision is, I have risen from my sick bed (having been struck down by a tummy lurgy, I am dizzily typing whilst sipping flat cola, this is how cross I am!)  to give anyone who wants to moan about Eurovision an ear bashing.
Yes, it's a bit silly, yes, some of the songs are utter pants, but you know what, with all the horrible stuff going on in the news, and the world, some of it in Europe, on our doorsteps or in some cases in our living rooms, tonight is a chance to be light-hearted, have some fun, vote for your favourite song, eat some popcorn, throw popcorn (if you feel like it) and LIGHTEN UP!
I will be thoroughly enjoying watching it, making comments on social media, and laughing and having some fun watching it later. If you don't like it, don't watch it. I don't watch programmes or events I don't like. I am not a huge cricket fan, but I don't whine about it, when other people are sharing excitedly on social media, nor do I like most reality tv programmes but I keep quiet, unless asked.
Besides, how can you not fail to be amused or rendered speechless when you see efforts like this, from France. I personally think I would vote for this, just because of the ridiculousness of it….
So, go make popcorn, grab a beer, find your sense of humour, or pipe down. Thanks!
Life long Eurovision fan, here! Don't diss it!!