Having been married to someone with a gluten intolerance for 13 years, I have taught myself a lot about what someone with gluten intolerance can eat and what must be avoided. I have to admit that I only started looking at actual recipes and cookbooks targeting the gluten intolerant market, recently, when I decided I wanted to branch out with my cooking. The Gluten Free Cook Book by Anne Sheasby is a very useful starting point.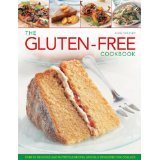 I have avoided things like pies, quiches, and desserts that usually involve a crust or pastry, because frankly they seemed a bit intimidating, but I was very excited when this recipe book arrived, because it has lots of recipes for things I would normally be too nervous to try. We all know that gluten free bread, pastry and pie crust can either be wonderful, or be hard, tasteless and brick like if it goes wrong. My husband very much misses things like pies, and pastry, so he was also excited to try some of the recipes.
The book is very easy to read, with very realistic pictures that make you think "I can make that" unlike some recipe books, where the pictures of the intended dish can look intimidating, before you have even started cooking.
It's not just a recipe book, though. There are sections at the beginning of the book, which are incredibly useful, even for someone like me, who has been cooking gluten free for a long time, and I would definitely say this would be a handy book to give to friends or family who want to cook for someone with gluten intolerance or coeliac disease. The Foods to Eat and Foods to Avoid section are very informative, and it also has a good section explain what coeliac disease is, and why it is so important for a person with this disease to adhere to their gluten free diet. I actually found this section very handy, preparing a meal for a friend who has just had a baby, who has coeliac disease, because although we avoid gluten, my husband does not struggle with issues like cross contamination, so for me to be able to read about what to avoid and how careful to be, was helpful, so I didn't produce a meal for my friend, that made her unwell. The section on children with coeliac is very informative, particularly for parents looking at what to pack in school lunches, or when preparing for parties or other events.
There is also a section on what you can substitute for when you would normally use a gluten product. I would never have thought to use gluten free cornflakes as a topping alternative for gratins or for coating foods that needed a crispy coating. I even made fish fingers using this, and it worked really well, and my children were very amused to know they had eaten cornflakes as part of their dinner. The pantry essentials list on page 13 is vital for anyone trying to establish a supply of gluten free basics.
What we particularly liked was the section on eating out, as that can be a real problem for someone with a food intolerance, allergy or illness like coeliac. Finding a place that can serve you food that is safe and tasty for you to eat, can be tricky, we used to struggle, in the early days after my husband was diagnosed as gluten intolerant. Now, of course more restaurants and cafes, and eating places are becoming very aware of the need to cater to individuals and families with food intolerances so it is getting easier, but the practical advice in this section with information on everything from drinks, to starters, main courses, puddings, snacks, picnics, fast food, avoiding cross contamination and what to avoid was very sensible and easy to make sense of.
The recipes themselves are easy to follow, and range from very basics things like sauces, and stocks, to soups, salads, main courses and desserts. I found myself trying out things we would never normally try, or avoid because of the gluten problem. My husband ate bruschetta, for the first time in years, and was delighted.
My children's favourite meal made from the recipe book were the vegetable pizza on page 31. I slightly adapted the recipe using non-dairy milk for my son, (dairy intolerant) but they enjoyed helping me make the pizza dough and eating the cooked results. As I normally buy a ready-made gluten free pizza base, to make my own, was great.
My particular recipe favourites were the Pancetta/Broad Bean risotto, and the braised lamb with dumplings. I have never made gluten free dumplings before, but they were really easy, and you cannot tell that they are gluten free.
I attempted gluten free pastry and biscuits, with pleasing results. As I have mentioned, I have always steered clear of making my own, because of fears that they wouldn't turn out well, but was very pleasantly surprised and I made the Country Apple cake on page 94, for a dinner with friends, one of whom is also gluten intolerant but very fussy about what she eats, because she finds gluten free products, in her words "bland and heavy" so tends to avoid them and eats a very simple diet, and she enjoyed it, and I recommended the book to her.
At the back of the book is an Information File, with lots of contact details and resources, as well where to buy certain products, and also suggests other cook books and recipe sources.
I also think it is a very handy "basic" book for those starting to cook gluten free, or to give to someone who cooks or prepares meals for a gluten free family member. It makes preparing delicious meals for someone with a gluten intolerance or coeliac disease much easier.
As someone who also cooks for a family member who is cow's milk intolerant, I found it easy to take the recipes and substitute what I needed, too, which was very helpful.
I would definitely recommend this book to anyone looking for a resource, with meals that are easy to prepare and actually taste as good as they look.
*We were sent a copy of the Gluten Free Cook Book to try out, all words and opinions are our own, photos taken from the cookbook*