Yes, you read that right. I finally got round to experimenting, and managed to make spagetti carbonara that was not only cows milk free, gluten free and tasted amazing.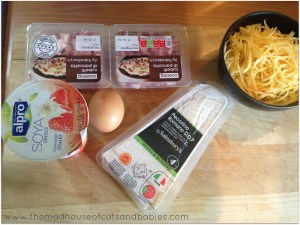 I LOVE pasta, and a bowl of creamy, cheesy pasta is one of my comfort foods. Sadly, I don't get to indulge often, one because I am too lazy to cook separate meals for different members of the household, and two because I struggle to replicate a decent bowl of cheesy pasta in a gluten and dairy free from.
I was craving carbonara, and wanted to see if I could make it without cows milk (i.e the cream and cheese component) so I grabbed a few things from the supermarket, to supplement what I had at home, and got to work…This recipe serves two adults.
You need
Cooked pasta (you can of course use normal pasta, if gluten isn't a problem, I used FreeFrom Spagetti for this) for two people. I am not good at judging pasta amounts, I always make way too much, but follow instructions on the packet, or give in to your carb craving, whatever works but make sure you have enough sauce to coat the pasta)
100g of lardons or bacon, cubed (I used lardons because I wanted to be quick
1 tbsp of olive oil, heated in a pan, I used a non stick high edged pan, because I am a messy cook, and it keeps the sauce from splashing everywhere.
one egg, medium sized
200 mls of soya cream (or goats cream or you could use non dairy plain yoghurt if you prefer)
Pecorino cheese (similar in taste and texture to parmesan, but made from sheep's cheese)
Method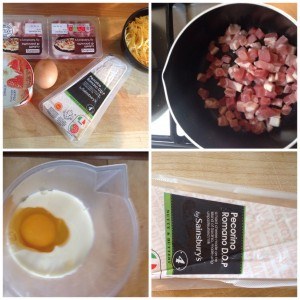 Gently fry the lardons or bacon cubes in the oil, in a hot pan, until starting to crisp and turn golden. Meanwhile, whisk the egg into the cream of your choice. Grate about 100g or so of pecorino. It's quite salty, so you may want a bit less or more depending on your tastes.
When the lardons are crisp, toss in your cooked pasta, turn down the heat slightly, and stir well, then add the egg/cream mix and stir through. The egg mix may "curdle slightly", this is ok, it may be the pan is a bit hot, still tastes ok though.
Add the grated cheese, and stir again until all the pasta is coated well in the sauce.
Serve immediately. Eat, enjoy and if you have to fight anyone else for a taste, or to share, then good luck! 😉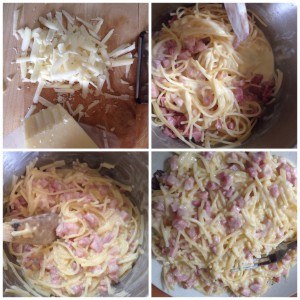 You can tweak the amounts of cheese you use, and also skip the egg, as it is only lightly cooked, if you are concerned about serving this to someone who can't eat lightly cooked egg (pregnant women, children)