As you know, if you have read this blog, or know us in real life, we are trying to add a 3rd small human member to the Mad House. I have blogged about pregnancy and birth before, and the ups and downs we have faced. I am delighted to be blogging for MAMA Academy, a new organisation helping to promote positive pregnancies and give mums to be all the latest and most up to date information, to help them have as healthy a pregnancy as possible. I am hoping that not only will I be able to personally use the information, support and resources they have to offer, but to also be able to share it here as well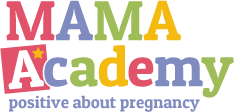 "Mums And Midwives Awareness Academy is a charity aiming to promote positive pregnancies by keeping mums & midwives up to dat

e with all the latest research, studies and guidelines to help MAMA's know best! We are run by Mums, Midwives & consultants who are passionate about Mums-to-be receiving a consistent top class service through vital pregnancy education"
Pregnancy and birth can be a very exciting but also sometimes anxious time, and to have as much information and support available so you can make the right choices and decisions for you, your baby and your family is important. I wis I had known some of the things I know now, when I was pregnant the first time round and also with Little Man's pregnancy, and I am looking forward to being able to using all their resources.
If you are pregnant, or hoping to be, you will find their website a really useful source of information, based on latest research, and recommendations and lots of advice and support for throughout your pregnancy, from conception to delivery of your baby and beyond. They also have a fantastic section for midwives and health care professionals as well.
You can also get one of their special
Wellbeing Wallets
, or sponsor one for someone else and they are working closely with NHS England to provide our Wellbeing Wallets to ALL trusts to give to mums at their booking in appointment. To receive a complimentary trial batch of wallets, please email
contact@mamaacademy.org.uk
.
I look forward to sharing their resources here and also on social media and hopefully walking our pregnancy journey using their support and information. Watch this space…