Free From Baking Gets the Artisan Touch
Newburn Bakehouse by Warburtons launches an exclusive range of artisan loaves
With 30% of Brits now choosing to eat gluten and wheat free foods on a regular basis – whether due to dietary sensitivity or because they are simply aiming to adopt a healthier lifestyle – there is no denying that there is an increase in appetite for "free from" foods.1 In response to this growing demand Newburn Bakehouse, the delicious range of wheat and gluten free products from Warburtons, has added two new Artisan Loaves to its range: the delicious Classic White Artisan Loaf, and the traditional White Sourdough Artisan Cob – both launching exclusively in Sainsbury's from Sunday 12th April.
Warburtons believes that bakery is one of life's simple pleasures, the delights of which should also be available for those who want to enjoy a gluten free diet – which is why it has launched the artisan range. Newburn Bakehouse has only two to three dedicated bakers who bake no more than 500 loaves per day – and with time and care invested in every single one, Warburtons really is raising the bar in the free from market.
Dave Mulvey, Product Developer at Newburn Bakehouse says, "Each loaf is baked using traditional artisan processes and every stage is completed with the utmost attention to detail. All the ingredients are hand selected and weighed in order to ensure that every loaf is of the highest quality. The ingredients are then hand moulded into individual cobs or tins, proved and then placed into small deck ovens before being cooled, hand-packed and sealed by the bakers."
Jen Dawson, Brand Manager of Free From products said, "At Warburtons we listened to consumer feedback: almost 30% of consumers who buy or eat free from foods say that they would like to see a wider range of everyday essentials.2 With the new loaves, we are allowing consumers the opportunity to add a little artisan luxury to their everyday eating – both during the week and at the weekend when they have more time to enjoy it. We are always dedicated to creating flavoursome recipes which answer consumers' needs whilst remaining focused on our strong bakery heritage to ensure that quality and taste are never compromised."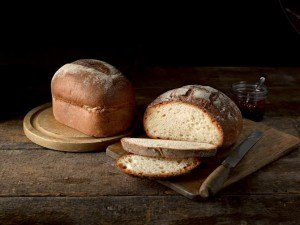 The Classic White Artisan Loaf and the White Sourdough Artisan Cob from Newburn Bakehouse by Warburtons are launching exclusively for three months in 121 Sainsbury's stores from Sunday 12th April.
#Launchyourloaf Competition
To celebrate the launch of the Newburn Bakehouse Artisan Loaves, they are running a #Launchyourloaf competition, going directly to consumers to ask for their suggestions as to which loaf should be next to join their delicious bread on the free from aisle! Will it be a free from Tiger white bread or a free from Toastie bread? You decide!
To enter, all you have to do is go to the Newburn Bakehouse website and provide your most creative suggestion! The product ideas submitted will be judged by Northampton Saints and England rugby player Alex Corbisiero (who eats a gluten free diet) and previous Great British Bake Off contestant Howard Middleton (who currently bakes gluten free). They will choose their favourite three entries, at which point voting will be open to the public. If your suggestion is picked for launch you'll then join the panel of judges to vet suggestions from the public on how to develop your loaf further, from its name to its pack design to recipe ideas. You'll also win a baking course at River Cottage to learn all about baking gluten free bread!
The competition launches on Monday 13th April and closes on Monday 18th May. To submit your entry, visit www.newburnbakehouse.com/launch-your-loaf. You can also follow us on Facebook.com/Newburn Bakehouse, where we will be giving the public the chance to send in their product ideas for the chance to win more prizes. Don't forget to follow the conversation via #DiscoverGFArtisan and #Launchyourloaf.