Sometimes you need something to take the edge off pain and bring relief, for muscular pain or joint aches, but you don't want to reach for the bottle of pain medication.
I find myself in this position at the moment, with a long term knee injury that can be pretty painful, and also because I have a busy job where I am often lifting heavy toys or wriggly children, occasionally I suffer from the odd ache or pain that needs some help but I don't want to take too many tablets.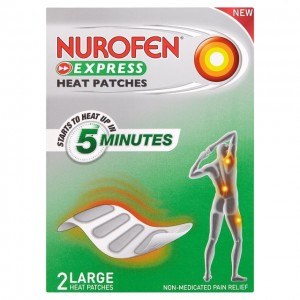 These Nurofen Express Heat patches are very handy, for such times. Designed to provide targeted relief for up to eight hours for muscle pain, back ache and neck or shoulder pain, using natural minerals which heat up when exposed to air. You simply open the packet, peel the back off the patch, and apply it to the area of pain. Heat is a well known effective method to bring relief to pain, when it's muscular or joint related, and these patches are designed to be easy to use and convenient.
They are small enough to be worn under clothing but shaped to be able to fit where needed, on a neck or shoulder, or in my case, specifically, a knee. They take approximately five minutes to warm up, and start to provide heat to the source of pain, but they don't get so hot that they are uncomfortable to wear.
They really do work, which is the most important thing. I will admit to being slightly sceptical, but very surprised when I tried one out. I recently slept in a funny position overnight, and have had a slightly sore neck as a result, so have found the patches really helpful to ease the pain. I also have used one on my knee, to help ease pain. Because they can be used alone, or in conjunction with pain medication, they are great for most people. They come off easily, too. I have quite sensitive skin but the patches didn't irritate it.

I would definitely say these are useful to have in your first aid cabinet, to pull out for pain relief when you don't want to take more pills or to increase the relief you need as part of treating muscle aches and pains.
*this was a collaborative post*