Don't get me wrong, I am all for people making a living, running successful businesses, getting themselves to where they want to be, I am one of those people, trying to live a dream, provide for my family, be something more…
However, when someone approaches me and uses guilt tactics (you could work for our selling business and be at home with your children, don't you feel guilty for being a mum who works out of the home?) or hard sell (telling me I will make my fortune and finally be able to go on that much desired Caribbean cruise by flogging scary looking mascara to all my friends on Facebook until their eyes all resemble tarantulas and I am laughing all the way to the bank…) or trying to tell me that the job I love and work hard for, but that probably won't be able to pay for my much desired Caribbean cruise (and I don't do the job for that, I do it because I love it) is not really what I should be doing and that whatever business opportunity I am being offered is far superior (because boring my friends and family on social media with how marvelous a diet shake or pill is, with dubious photos and "motivational" speeches is a far more fulfilling career choice than working with families and building a strong community, of course it is!) or that trying to get all my friends and family to sign up to a dubious sounding utility company so I can make money every time they use their microwave, or phone their grannies, (but I have to stump up money to sign up, and I have to work "on commission" to earn it back, apparently, that doesn't sound dodgy at all, now does it?) and I keep saying "no thank you, I am not interested", "no thank you, I am not a salesperson" or "actually, I am very happy in my current job, I quite like working out of the home the hours I do, and my kids are fine with it, and no I DON'T WANT to join your business scheme" and they don't listen and won't go away, I get annoyed.
Basically, if you are trying to recruit me to work in your scheme or business, that involves me trying to sell stuff to other people, then trying to get them to join me selling stuff, as marvelous as you claim it to be, I am SAYING NO, and I mean no, so please go away and stop asking. I am happy you are making your fortune, that way, but I am not interested, I don't want to join you, can we agree to disagree on your sales tactics and go back to exchanging Candy Crush lives on Facebook or being nice and polite when our kids are in the same dance class, and talk about the weather or the shocking expense of school uniform, rather than you trying to recruit me…?Pretty please? My life is frustrating enough without having to avoid what feels like an army of arm twisting salesmen.
No, means no. Now go away!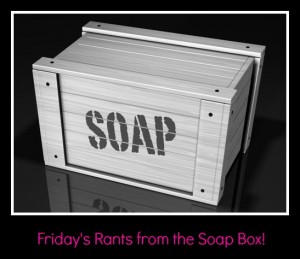 Thank you for reading Friday's Rant from the SoapBox. You may go about the rest of your day, knowing that I feel better for having got that off my chest…