I always find this time of year a bit of a struggle and we seem to constantly fighting off winter germs. The weather is getting colder, and the days shorter and darker earlier, and I am convinced that the germs seem to multiply faster and we fight off a multitude of bugs and illnesses. Going back to school after the summer seems to equal every lurgy known to man invading the house and making life miserable.
I am always keen to try something that might help ward off some of these nasties and make surviving winter that little bit easier.
Potter's Echinacea Tincture with Elderberry Juice
is a useful thing to add to my arsenal of weapons against lurgies.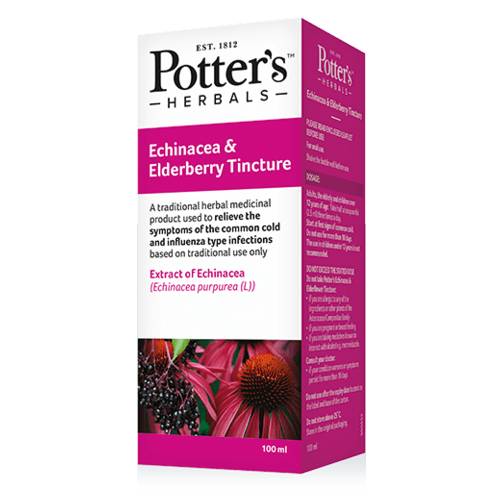 It's a pleasant tasting syrup, to be taken 3 times a day.
"A traditional herbal medicinal product used to relieve the symptoms of the common cold and flu type infections and minor skin conditions, exclusively based on long-standing use as a traditional herbal remedy.
Created more than 80 years ago, Potter's Elixir of Echinacea Plus is believed to be one of the oldest Echinacea formulations still available today.
Pleasant tasting and ready to use, Potter's Elixir of Echinacea Plus is formulated with a specific species of echinacea,Echinacea angustifolia.This has been used to work synergistically with Wild Indigo and Fumitory to help the body fight back against infection."
 I have been taking it this past week, to fight off yet another cold, that I seem to have picked up. I have used other echinacea based remedies in the past, but some of them taste pretty awful, so it's great to find one that doesn't. Whilst it's not a cure, but it can't hurt to try and help fight off the germs and lurgies and it's handy to have in my medicine cabinet. I don't have much time to take off sick, so anything that helps me get back to normal faster and feel better is a must-have in my book.
This blog post is not intended as medical advice and is purely for informational purposes. Please seek appropriate medical care and input before taking any products. We were very kindly sent some Potter's Echinacea Elixir Plus to review but all opinions are our own.