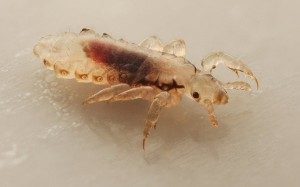 Dear parent of the child in my class who constantly has head lice, which you refuse to treat properly…
Your child has lice, a common issue that children at school and around other children pick up. It's not nice, and it's a bit of a pain to deal with but it is possible to get rid of them, and yet you choose, for whatever reason, to do nothing. You tell the teacher "they scream when I wash their hair", or "I don't have time to comb and remove them" or "I am freaked out by insects, I can't touch them" or "all kids get them, they won't hurt anyone". I have heard a good few excuses why your child has lice that you refuse to treat properly, and frankly, I have had enough. There is no excuse to not deal with it. Lice won't go away on their own, and not only is your child suffering because it's head is itchy, possibly sore from being scratched and rubbed, but it's also going to spread to other children around them, who's parents then have the pleasure of dealing with a lice infestation.
It's not fun, to make your child sit, whilst you comb through their hair, and pick out lice and get rid of the eggs. Yes, you have to do this several times over a period of a few weeks, and yes, you have to keep checking your child's head, and the heads of other family members to make sure they are gone and not coming back. If you don't they will not go away and they will spread.
The excuse that "I can't get rid of them" doesn't wash with me, if you will pardon the pun. I have dealt with seriously infested heads, riddled with head lice. It was laborious and painstaking, but I have literally removed hundreds from heads and managed to eradicate them, I have helped whole families treat themselves and get rid of them. I have shown people how to comb them out, what they look like and how to deal with them. There are tools out there, to help you, that don't have to be toxic, or expensive, and if you really need, you can go to your GP and get help with them. If it's that unbearable for you to deal with insects, on your own child's head, then I will happily come round and do it for you, if it means it stops your child from spreading them to the rest of the class. No, lice are not something we should all just put up with, because you can't be bothered or are too squeamish
Seriously, it's not fair to let your child have to cope with a constantly itchy head, and sharing lice with the rest of the class. It's not fair on the rest of the parents who do try and make sure their children are free of lice, or who treat head lice when they do occur.
It's selfish and it makes me cross and very itchy, to think about it….
*this blog post is fact-based, not just a rant. There are parents at my children's school who refuse to treat the head lice their children are struggling with. I am pretty sure we aren't the only ones. Yes, my post is judgy, and I realise that there are certain social situations where a child may have issues that the parents can't cope with, I have worked with families like that, but being lazy or plain selfish are not good reasons. If you are going to mouth off loudly in the playground about your drunken weekend away, where you can't actually remember what you did, but you can't take the time and effort to deal with your child's head lice, then you are going to feel the brunt of my wrath and I may gift you a head lice comb…, oh and being vegan does not mean you can't treat your kids' head lice either, that's an excuse I have heard has been used before too… :0*
Attachment Mummy has some tips on how to easily deal with headlice that might be helpful if you are really struggling. I know headlice are a pain but they are a fact of school-age children life and parenting and if you deal with them, it makes everyone's life easier and nicer.