Most afternoons in the week, I take half an hour or so of time out. It's "me time" but not the kind of me time you would be expecting. I am not in the gym, I am not in a nice cafe drinking coffee and reading a book, or meeting friends, or getting a manicure. Nope, I will be found lying on my bed, strapped into what looks like, at first glance a rather strange contraption.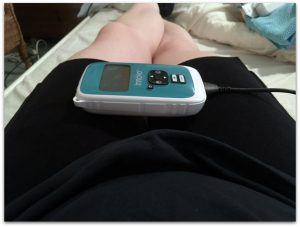 Why? Well, if you read my post on the state of my pelvic floor, you might have a bit of a clue.
Yup, my "me time" is taking care of and working on strengthening and improving my pelvic floor. After basically putting up with a weak pelvic floor and trying to deal with the problem, and not actually really do anything about it, I decided that it was time to make a change and using the Innovo device has helped that  and frankly revolutionized my life and my in rather poor shape pelvic floor.
It's an amazing piece of technology, that has made a huge difference to me personally. I have struggled with what is a very common issue for many women, after two pregnancies and births, with a weak pelvic floor and bladder issues. Not something you really want to discuss or talk about, but something that is there ALL the time, with you. Sneezing, laughing, jumping, needing the loo but not being near a loo, are a constant in the back of your mind niggle, and the worry that you may not just have enough control, to cope. It's actually very stressful and unpleasant, and can cause a lot of anxiety.
I have been using the Innovo machine, for 3 months, consistently, following the instructions and since I started I can hand on heart say that I think my bladder issues are radically improved and my pelvic floor feels stronger and copes far better. I would say it feels pretty much like it did before I got pregnant. I feel emotional as I write this, because it's still not easy to talk about. It really does work. It's not invasive or painful either. You simply set up the special leg wraps, with conductive gel pads, secure them in position, connect them to the control device and you're good to go. They're comfortable and soft.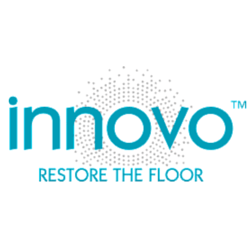 "Innovotherapy is a non-invasive way to restore your pelvic floor sending targeted impulses via a set of conductive pads to safely and effectively activate the muscles of the entire pelvic floor. The proof is in the results. After four weeks of treatment, 93% of users noted a significant improvement in the amount of involuntary urine leaked and 60% were defined as dry.1
After 12 weeks, 86% of users were defined as dry or almost dry with the average reduction of 74% in the amount of involuntary urine lost over 24 hours.1  "
The Innovotherapy kit comes with everything you need, and very specific instructions and guidelines. It's a little bit of work to get it set up initially, but you need to do it properly according to the leaflets. Fitting it and getting it on correctly and making sure it is positioned as it should be took me a couple of times to get right, but once you have got the hang of that, it's very easy to put on. I set it up, put it on, turn the machine on, to the settings I need, and lie back with a book. Their website has lots of useful information, and there is  also a helpline you can call too, if you need support or advice.
The sensation as it starts to work does feel a little weird, but once you get used to that, and you know that it's mean to feel that way, it's actually quite easy to relax and let it do what it has to do. The machine with the settings is easy to use, and as you become familiar with the intensity of the feelings as it works you can increase the levels. It's now part of my daily routine, and something I do, that has not only helped to improve how I feel about my body, but also how my body actually functions.
I honestly didn't think there was much of an option for me, other than possibly surgery, and I had given up with those  exercises you read about because frankly they weren't doing much, so this has revolutionized life for me.
It's not just for women, though, it can be used by men, which makes it something that really is making inroads into dealing with pelvic floor issues.
Who would have thought that enforced me time, using a small, un intrusive device, daily, could have made such a difference? I think I am proof that it can and now I don't worry when I sneeze, jump, or have to run for the bus…
"I am a member of the Mumsnet Bloggers Panel, a group of parent bloggers who have volunteered to review products, services, events and brands for Mumsnet. I have not paid for the product I was sent. I have editorial control and retain full editorial integrity"