The summer holiday are here and we have time to plan days out for the kids and find fun things to do with them… Sometimes that's easier said than done!  My kids are at still the age where they like to explore and learn but can enjoy things that are just that little bit more grown up too.
So a visit to Down House, the home of Charles Darwin, in Orpington, was a perfect day out for us. It's a lovely place run by English Heritage. We jumped on the train and set off for a day of learning & fun.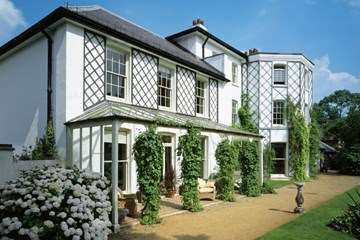 It's a beautiful house, and is set up both for adults and children alike, and we all had things to look and and explore. I felt rather old as we looked at some of the things Charles Darwin had collected and written about, taken back to my school days and GCSE science, but managed to prove that my isn't entirely rusty. The children loved exploring the house, participating in a learning session with "Ada Lovelace" (which I joined too, it was brilliant) and finding out all sorts of things about Charles Darwin, his life, his family and what he wrote and believed.
The gardens are stunning, in themselves and we spent a good hour wandering round, taking photos, looking at plants, visiting his greenhouse and outdoor laboratory (the beehive was of particular interest) and vegetable garden. We learned that Mr Darwin liked to fence off small squares in areas to see what weeds and plants grew naturally, and when (I do that with my WHOLE garden, clearly it's the right thing to do! ?) and both children declared as we left "we really had fun, can we come and visit again soon?"
It's perfect for a family day out or if you enjoy visiting interesting places, it's very well run, the staff were lovely and helpful and the attention to detail and care put into making the place a perfect place to visit can be seen throughout. They've taken the Darwin family home and kept it as authentically as possible whilst making it a welcome place to visit, explore & learn. So that pretty much gives it the thumbs up and seal of approval all round. We'd definitely recommend it.
"I am a member of the Mumsnet Bloggers Panel, a group of parent bloggers who have volunteered to review products, services, events and brands for Mumsnet. I have not paid for the product or to attend an event. I have editorial control and retain full editorial integrity. I have received a voucher in return for writing this post"