If you have a little one that LOVES singing, dancing and making music, and wants to be a superstar, then the Kidi Superstar from Vtech is right up their street.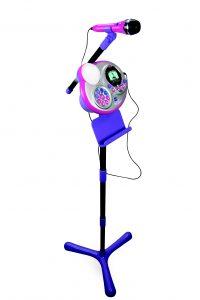 "VTech's new Kidi Super Star karaoke microphone and stand uses innovative technology to reduce the vocals on any song. Whether you're plugging in a mobile phone to access YouTube or Spotify or an MP3 with your own music library, the Kidi Super Star will reduce vocals to allow children be the star of the show.
With a glowing light which changes colour for a magical atmosphere and unique microphone effects, children can record up to four minutes of a song allowing them to create individual versions of their favourite tracks. If that wasn't enough, there are also six fun games to play"
The first thing my music and singing loving son said when he saw it was "wow, that is amazing". I said "why didn't they make these when I was little?"
It'a fabulous toy, that really encourages kids to get creative, use their singing and music skills and have fun. The sound effects and abilty to record a song, is brilliant and it's a toy that really keeps them entertained and having fun. It's fairly easy to use and set up and the fact that you can connect it to your own device so you can sing along to your favourite songs is a clever addition. The only problem we have is who gets to choose which song and who gets a turn first. It's very light and easy to store, and the console detaches so you can move around, or keep it attached to the stand to be like a real pop star. It's a perfect toy for children aged 6 plus, and is designed with mini pop stars in mind.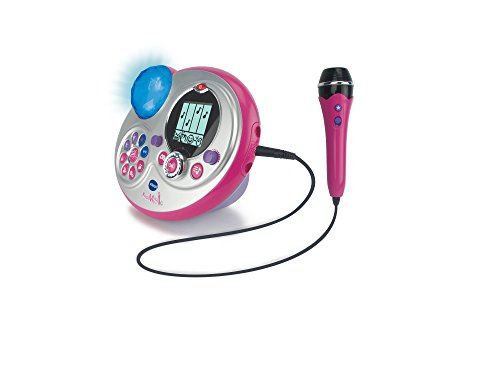 It's a great gift for someone who loves singing and music and wants to show off their talent, but also for family fun, singing together and being creative.
Now, what we won't tell the children is that when they go to bed, Mum & Dad have a go too, and pretend to be pop stars… Like I said, they didn't make cool stuff like this when we were kids, we have to have some fun now instead… 😉
The Kidi Super Star is the perfect toy for those 6+ who love to sing and is available from the VTech website and all good toy stores nationwide with an RRP of £49.99. For more information please visit www.vtech.co.uk.
*We attended an event and given a product in exchange for this review, but our opinions are our own. Images and information used with permission*