I love a good mystery, and find nothing more satisfying than curling up with a good one, and usually not putting it down until I have finished it. If you like a good murder mystery, filled with suspense, that will keep you on your toes then this a book I think you need to get your hands on… I would highly recommended it.
"If Agatha Christie were alive today she would be proud of 'A Brush With Death' by first time novelist, Malcolm Parnell. Not only does it share much her gentle approach to setting out a story of mystery, but the book is also set in the south of England on the Dorset coast. With the feeling of salt air as you turn the pages you will try and fathom exactly who is trying to kill Harry Chase – and just as importantly, why?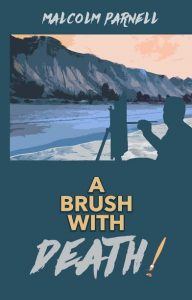 "Harry is a nobody. A nice guy with an interest in the ladies even if sometimes the ladies don't have any interest in him. It's certainly not a jealous husband after him, but someone is definitely trying to cause Harry some harm. On a week long painting holiday with a group of fellow artists the question is will Harry find out who is trying to cause him harm before they get to him for good?
Who is trying to kill artist Harry Chase and why?
Harry Chase, a semi-professional artist and full-time nobody, has recently been dumped by his girlfriend. Bewildered by the end of his relationship he withdraws into his paintings.
An attempt is then made on his life. Dismissing it as a freak accident he organises a weeks painting holiday with a group of amateur painters. During the holiday several members of the group also have close encounters with death and further attempts are made on Harry.
He has no idea why anyone should wish him harm but as the holiday progresses he begins to take a closer look at his fellow artists and wonders if they are all that they seem.
Maybe one of them is a killer?"
This is Malcom Parnell's first novel and he's done a great job. It's a griping read that I enjoyed thoroughly and really didn't put down until I had reached the end. I happen to be a huge Agatha Christie fan, so it really was up my street. It's nice to find a new author who can write in a style that's familiar but bring his own touch to a story and keep you reading.
You'll have to get the book for yourself because I'm not giving the story away… ?