Christmas gifts can be a bit of a tricky one, finding the perfect item for each person, shopping, wrapping, keeping secrets. It's all fun but can be a bit stressful.
To be honest, this year I have had NO IDEA what to buy the Husband. He's pretty much got everything he wants or needs, he doesn't really do weird or eccentric gifts and whilst I would love to buy him the fancy fast car he has his eye on, sadly budgets won't stretch.
But, he does love to eat good food, and he's also becoming a bit of a cook, nudging me out of the kitchen so he can experiment. I tend to do most of the meal planning and cooking but he likes to help and enjoys it.
So, I deciced that this year it would be a perfect opportunity to create him an edible gift. A whole selection of treats and nice things to eat. Slight hitch being he is gluten intolerant and allergic to cows milk, so that isn't as easy as it sounds.
That's where Cia Gusto come in.
"Ciao Gusto is a family of famous Italian food and drinks brands, working together to tell their stories and to spread the love of Italian food and culture around the world.
Every member of Ciao Gusto is acclaimed, a brand leader in Italy. Large or small, they all share a common heritage and devotion to quality. That's why they've come together, sharing knowledge, passion, and their favorite Italian recipes."
The husband happens to love Italian food, and there is a fantastic selection of products at Ocado to choose from, including lots of items that are gluten and dairy free, or cows milk free.
I was able to choose him a really lovely little selection of goodies, for all sorts of purposes, that he could pick out and enjoy or having fun cooking with.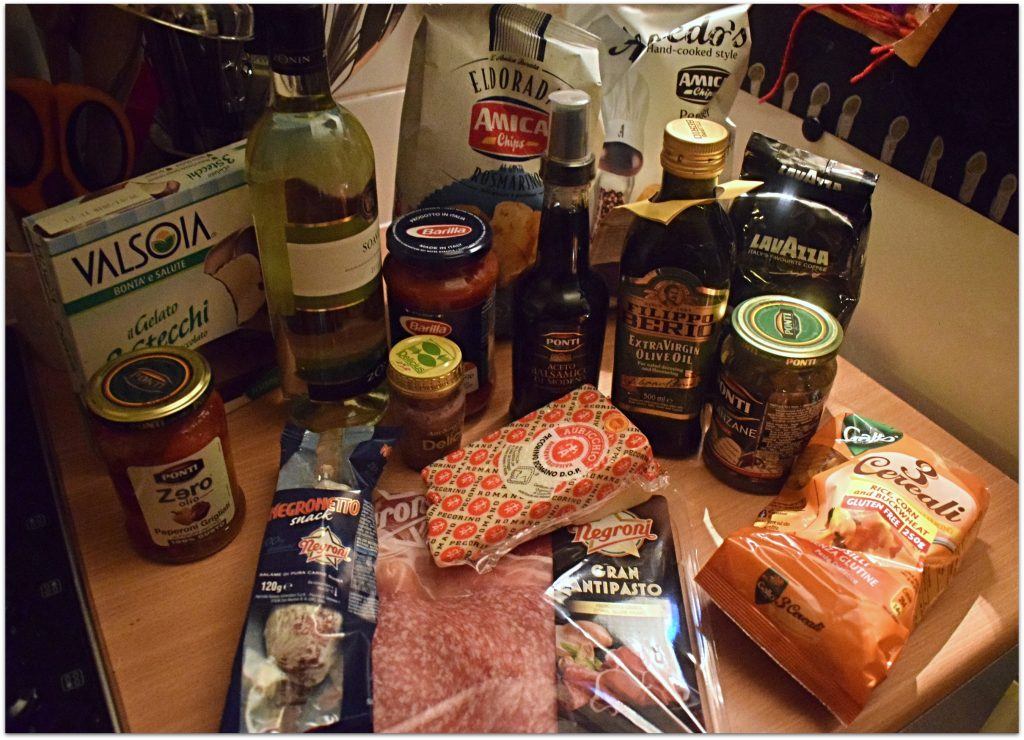 Look at all that lovely food. Perfect for a gift hamper.
Gluten free pasta, and sauce, with some aged peccorino cheese, a perfect and simple meal, that he can make and enjoy. Some anchovy fillets (which we all love, so I will be hiding them, they are HIS gift) and some grilled peppers and aubergines, which could be a snack or added to a pasta sauce, some delicious crisps for snacking, Italian antipasto and salami, olive oil and balsamic vinegar (because he's very fussy about the quality of those, so these are perfect and he will approve, some light but fruity wine. I was also delighted to find they do dairy free desserts so added in a treat of some ice cream he can enjoy, and of course, rounded it off with some good Italian coffee.
I don't think you can go wrong with a beautiful gift hamper of food, especially if you have chosen things you know the person will really like. It's a delightful way to give gift to someone, and just that bit different. Cia Gusto have really helped me to find that something special gift this year. I think he will LOVE it and of course hopefully he will cook me a nice meal and let me share the wine and snacks… 😉
Thank you to Cia Gusto and Ocado for helping me solve my "what to get the Husband for Christmas?" dilemma and letting me choose some lovely treats for him to enjoy.