We have shared our love of Ora the round kitchen towel that is seriously multi purpose, and can be used for all sorts of things and not just cleaning up mess. We use it for a lot of different things and there is always a stack of it in our kitchen.
We recently had fun creating a Christmassy craft at our toddler group with Ora, and thought we would share. If you are looking for something that you can create things with, it's perfect and versatile. It's easy to cut and sticks well with glue. This simple but pretty snowflake craft was fun to create and looks effective and if you are horribly uncrafty like me, still works, I promise.
You will need
Glue, the runny PVC stuff is best.
Sequins or sparkly stickers
A stack of Ora round towels
Glitter glue
Scissors
Black card
Fold the Ora towel into sixes like you would if you are cutting out a snowflake shape, into a sort of triangle and then cut holes along the folded edges and snip the tip. You can make patterns in the rounded edges too. Basically use your imagination and go wild. This bit is probably done by an adult.
Then use the glitter glue and sparkly bits to decorate the snowflake and you can also use sparkly pens too, as you can see here. This is fun and a bit messy, but the kids loved it (and you can use a damp Ora towel to clean up the mess afterwards)
The stick the finished snow flake onto the black card so you can really see the sparkles…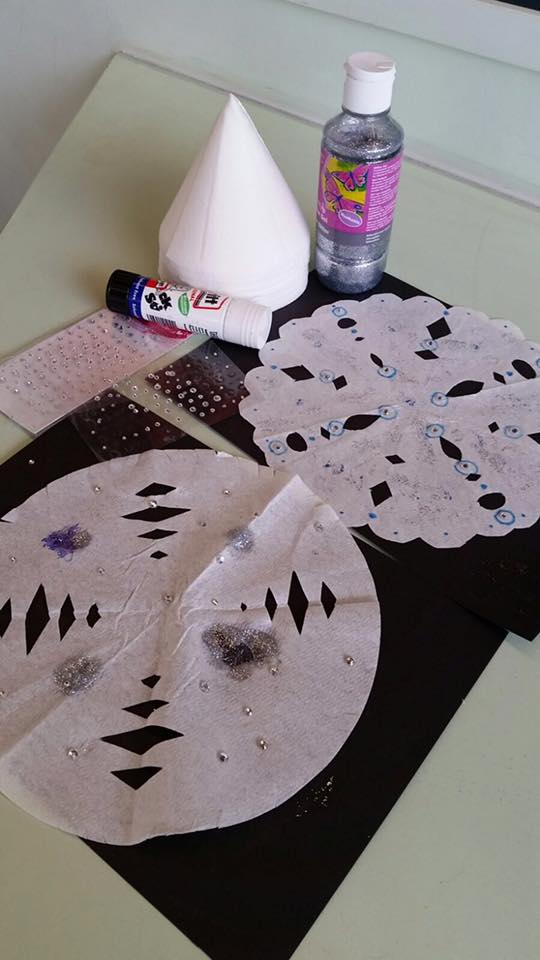 See, I told you, easy, pretty, and a fabulous use for Ora, that doesn't involve cleaning. You can buy Ora at Tesco, so it's something you can get hold of to make your own crafty Christmassy Creations.
We also have 5 stacks of Ora to giveaway to our readers.
To enter to win one, tell us what you would create for a Christmassy craft with your own stack of Ora, in the comments, then head over to Rafflecopter to complete your entry.
Have fun!
Terms & Conditions:
5 people will win one stack of Ora round kitchen towels each.
No cash prize alternative.
Spam entries will be deleted.
All entry requirements must be completed.
Ends 30th Dec 2017
Winners will be notified by e mail to arrange prize to be sent.