I am a woman who sticks to things she likes. Boring, maybe, but once I find something I like, I tend to keep with it, and it's rare for me to change my mind. I have worn the same perfumes on and off for years, without changing and it takes a lot for me to swap for a new one. I find a lot of perfumes and scents don't smell that nice on me, so I stick to what know and like but sometimes I come across a scent that I like that makes me change my habits.
So these lovely bottles from the Library of Fragrance have been on my dressing table for a few weeks and I have to say, I am loving them.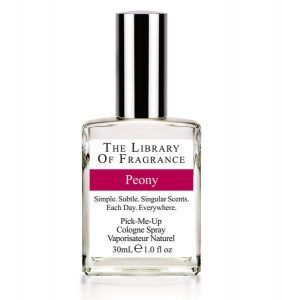 This is such a lovely, light but flowery scent, perfect for daytime, and also for wearing for a special occasion.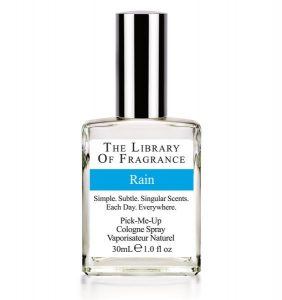 The smell of rain, which I love. Unique and refreshing.
The Library of Fragrance products are produced by New York-based company, Demeter Fragrance Library Inc.
Originally established in 1996, Demeter set out to create fragrances that captured all the wonderful smells that surround us every day, but are too often under appreciated in our busy, pressured, multi-tasking world. The first three scents belonging to the collection – Dirt, Grass and Tomato – were launched at Bergdorf Goodman in New York City. With the brand quickly gathering a loyal cult following, the concept soon expanded to include an even broader range of smells – no matter how odd or unusual – and scents such as Gin & Tonic, Baby Powder and even Play-Doh began to populate the library.
Today, Demeter's head office remains in Greater New York, whilst the 20,000 square foot factory is located in central Pennsylvania. Everything the company sells is made in this factory, enabling the brand to continue to specialise in unique fragrances and the kind of labour-intensive, short-run, hand-bottled production that makes it possible to carry such a diverse 'library' of products.
Scents are now created by Demeter's CEO, Mark Crames, who has been running fragrance companies since 1986. His creations include the top-selling Baby Powder, Pure Soap and Clean Skin and he continues to travel the world looking for inspiration for great, new Demeter experiences.
They smell amazing. I am very impressed by how fresh and uplifting they are, and also they have a fantastic and interesting range of scents available, with some intriguing titles. They even have one called Gin & Tonic, which is right up my street. They look pretty on your dressing table, and would make a perfect gift, or a treat for yourself. The only problem you will have is choosing which one, and sticking to only buying one.
We love these fragrances so much and are delighted to have a special giveaway for one lucky winner from our blog. One winner can choose a bottle of fragrance from the UK site…
Tell us what scent or smell you would capture in a fragrance, in the comment section and then click on the Rafflecopter link to complete your entry.
a Rafflecopter giveaway

Terms & Conditions
Winners must complete all entry requirements
Spam Entrants will be deleted
Giveaway ends 10/01/2017 and winner will be contacted via e mail to arrange delivery of prize
Open to UK entrants only.
*We were very kindly sent some fragrances to try for this review*