I don't wear a lot of jewelry, because I work with small children and sometimes it's not practical, but I always wear a watch, and feel lost without one. I rarely go without a watch.
I have several watches, ranging from the tough and practical (because working with kids means you need to think practical)to the technical, to the more elegant and pretty, suitable for dressing up and going out. Sadly, my current nice watch, which was a gift for my 21st birthday, was damaged and declared irreparable, so I am now on the look out for a new watch to wear when I want something to dress up an outfit or when I want to add to an outfit and I am dealing with toddlers, paint and nappy changes. I need something a bit more grown up and I really want to treat myself and splurge a bit.
There's something special about a really well made, classic luxury watch line a pre owned cartier. They are made to stand the test of time, and to be wearable for a lifetime and they can dress up an outfit or a look, with very little effort. It might cost a little more, but you can consider a watch an investment that will keep it's value. They say something about you, and make a statement. You can wear a watch that is quiet and unfussy in it's style, but classic, or choose something that's that little bit more eye-catching, depending on what you want, for the watch you wear.
I tend to be somewhere in the middle, and prefer something that's not too elaborate but is a classic style that can fit most occasions and can be worn to dress up or for everyday but fits in with your style.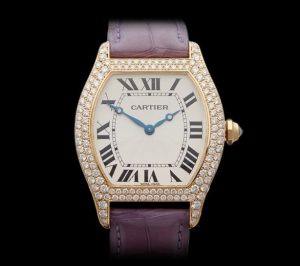 A classic time piece with a little bit of sparkle, a perfect "grown up" watch…"
My grandfather was a watch expert and spent his lifetime repairing watches. He would tell me about the different kinds of watches, and how they worked and he had brands that he liked and always preferred. He took pride in fixing good quality watches and restoring them to life, and I used to be allowed to admire any watches he had that he was working on. He was a bit of a watch snob, as I am and he firmly believed that quality meant you had to choose wisely and spend a little to get a time piece that you could treasure and that would be worth it. I think he would approve of my choice…
What would you choose as a watch to wear, to invest in and wear?
*This is a collaborative post*