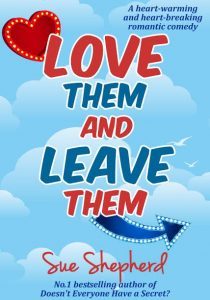 I love a good book that I can curl up with and enjoy (when I have time) and I am rather partial to a book that contains a bit of fun, romance, adventure, that I can enjoy. Not too soppy, but enough to keep me reading.
Love them & Leave them, by Sue Shepherd, is just that. I have thoroughly enjoyed it, and am delighted to share a little bit about it, here (no spoilers, you will need to read it for yourself) but here's a little taster…
Love Them and Leave Them: Sometimes you have to leave the one you love … sometimes you're the one who's left behind. The new heart-warming and heart-breaking romantic comedy from the No.1 bestselling author of Doesn't Everyone Have a Secret?
On his way home, Ed makes a split-second decision that changes the lives of all those who love him.
Six years on, Ed's daughter, Jessie, is stuck in a job with no prospects, her dreams never fulfilled. It will take more than her unreliable boyfriend, Chris, and temperamental best friend, Coco, to give her the confidence to get her life back on track.
But what if Ed had made another decision? It could all have been so different …
Six years on, Ed's daughter, Jessica, has a successful career, loving boyfriend, Nick, and a keen eye on her dream home. But when new clients, a temperamental Coco, and her unreliable boyfriend, Chris, walk into her life, Jessica's perfect world soon starts to unravel.
Love Them and Leave Them is a story of love, families, friendship and a world of possibilities. Whichever decision Ed makes, the same people are destined to come into his daughter's life, sometimes in delightfully different ways. And before they can look forward to the future, they will all have to deal with the mistakes of the past.
It's a book that you will want to keep reading, just to find out what will or will not happen, and how it all pans out. It's one of those books you won't want to put down.
About the author:
Sue Shepherd
Sue Shepherd writes contemporary romance and enjoys creating novels with heart, laughs and naughtiness. She doesn't pull any punches when choosing her subjects, but manages to handle her characters' challenging situations with sensitivity and humour. Her debut novel, Doesn't Everyone Have a Secret? was published by Corazon Books in March 2015. It reached the top 10 UK Kindle chart, and also topped the romantic comedy, contemporary romance and humour charts. It became available in paperback on Amazon in November 2015.
Sue's second novel, Love Them and Leave Them, was published in September 2016.
Sue lives on the picturesque Isle of Wight with her husband, two sons and a standard poodle. Her passions in life are: her family, writing, the sea-side and all the beautiful purple things her sons have bought her over the years. Ask Sue to plan too far in advance and you'll give her the heebie-jeebies
We are also delighted to share about a giveaway you can enter to win one of two Love them and Leave them which only has a few days left for you to enter…
So if you like a book that's funny but heartwarming, this one is definately for you….