I love a good book and recently delved into the world of Book Clubs, as an adult, finding it a good way to meet people, socially, to enjoy discussing books we are reading. They are fun and an easy way to make new friends or catch up with people.
A book club for kids is an even  more fun idea to get your tweenager together with her friends, for time to be social, but also to encourage them to read and enjoy books.
Preparing for a book club and getting things ready for your mates to come round is all part of the excitement and the book Jacky Ha Ha was what we chose to share with her friends and for her and I to read too. We are fast fans of James Patterson's books for kids, so it was an easy one to get into and enjoy. She invited three friends and gave them a copy of the book to read, and it's been very interesting to see the different thoughts on the book and how much they enjoyed it. I've been reading the book during my commute to to work and she's been reading it as part of her own choice of reading for free reading at school.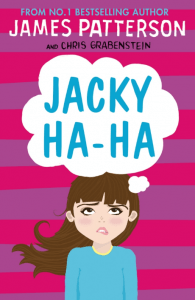 "With her irresistible urge to tell a joke in every situation – even when she really, really shouldn't – twelve-year-old Jacky Ha-Ha loves to make people laugh. And cracking wise helps distract her from thinking about not-so-funny things in her life, like her mum serving in a dangerous, faraway war, and a dad who's hardly ever home.
But no matter how much fun Jacky has, she can't seem to escape her worries. So one starlit night, she makes a promise to keep her family together… even if she has to give up the one thing that makes her happy. But can she stop being Jacky Ha-Ha, if that's who she really is?"
What do you need to make a book club fun?
Sweet treats. 
Fun things like a word search to get your brain thinking,
Things to be silly with, like some items to take funny photos with, for a pretend photo booth,
A list of questions to get you talking about the book…
Not a lot of prep but it all helps to get things going. 
Emily and I thoroughly enjoyed the book, it was actually lovely to be reading it at the same time and it gave us soemthing to talk about, together, and the book really does make you get into the world of Jacky and how she figures out life around her. At the group when we all got together with her friends,  we had a list of questions that got them thinking about the book, we won't share too many, we don't want to spoil the story for you but it did help to get things going and to hear different perspectives. It was so much fun and much more lovely than my grown up book club. (I think a lot of sweets and treats helped with that bit ?)
All of us loved the book, and once again, James Patterson scores a big thumbs up from us, for the way he writes, that helps a reader really get into the story. We'd definitely suggest you get your hands on a copy, for your older child to read and enjoy…
Jacky Ha Ha is available now from Penguin Books. 
I am a member of the Mumsnet Bloggers Panel, a group of parent bloggers who have volunteered to review products, services, events and brands for Mumsnet. I was given a voucher in return for this post. I have editorial control and retain full editorial integrity.