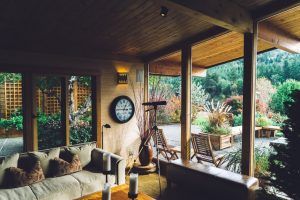 Image source
When you are living up to your belly-button in cats and babies, and whatever else, finding a place of peace and quiet can be as important as it can impossible. But without moving to a big house or getting involved in an expensive and timely extension, it tends to be a matter of put up and shut up. Not ideal really, especially when the only place of tranquillity left is the bottom of your garden. Wait a minute. That's it, the answer to all your headaches is a room at the bottom of your garden.
Think about it for a second, the benefits are incredible. It's the flexible expansion you've always wanted, made exactly to your wants and desires, and one that you can do with just an unsecured loan. What's more, the possibilities are endless. Seriously, it doesn't matter what you need the extra space for, a garden room is THE answer. Just read on and see for yourself.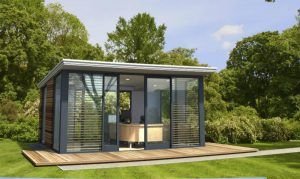 The Garden Office
More people are working from home than ever before, so the home office is rising faster than a spring tide. Sure, the idea of a home office is nothing new. People have been turning their spare bedrooms into office spaces since the word entrepreneur was first invented. But this isn't ideal with kids and cats screaming and meowing. So the chance to sit in a garden office, at your desk, and be inspired by the bright vistas of nature that fill your giant windows, now that is irresistible, especially when you design your garden office to your exact working needs.
The Children's Room
We know, we know, why should you be kicked out of your own home just because the cats and kids are doing battle with one another. Well, why not indulge your kids biggest dream by giving them a garden playroom. Oh, the joy. No more toys and teddies littering the house. Instead, you can put them all in your new children's playroom, one that was designed with their safety and imagination in mind, and watch as the zoo leaves the home and stampedes into your child and pet-friendly garden. Think of all the fun. You could paint the walls, put up a mezzanine, fill it with bean bags and have a projector and screen for movies time. All while getting the peace and quiet you dreamed of while in your own home.
The Lounge Space
Work can be stressful, and so can the constant noise of cats and babies. It's no wonder you need a place where you can go and relax for a moment; catch your breath, think clearly and exhale with a glass of wine. Well, the solution could be an outdoor lounge area, a purpose-built living room with doors that fold out to welcome in the sights, smells and sounds of your garden. It will be like having an extension of your house that is nowhere near your house; a little place where you can entertain friends and host a barbeque, or just curl up with a good book and unwind. Oh my, that sounds totally perfect.
*This is a collaborative post*