You will usually find undercabinet lighting in a kitchen. It's a unique source of lighting which has increased in popularity over the years alongside LED lights. There are several different benefits to installing undercabinet lighting in your home – and here's everything that you need to know about them.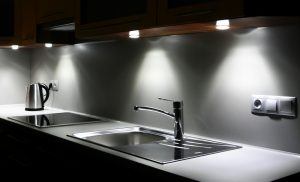 Less Shadow
As undercabinet lighting is direct, it gives focused light on objects. This works well in the kitchen, where you can place undercabinet lighting above work surfaces where you prep food or in the study where you need to work. This is better for your sight if you are cooking or working in the dark.
Energy Efficient
If you opt for LED undercabinet lighting, you will be choosing the most energy efficient option. LED lights convert 95% of their energy to light rather than heat, meaning that you are getting a better quality of lighting whilst also saving money on your electricity bills. LED bulbs have a lifespan of around 10,000 hours which means that you'll hardly ever need to replace them, so whilst they can seem more expensive than a halogen bulb initially, you will see a saving over time. The lights are operated by a sensor, so you don't have to leave them switched on all the time, for them to work.
Adds Interior Value
Choosing undercabinet lighting can add value to your home should you choose to sell, as it is a unique feature that will make your home stand out to potential buyers. It can make your home look really sophisticated, without you having to put too much effort in.
Safety
Opting for LED undercabinet lighting is best for safety, as the low heat means that they don't damage or discolour the wood/plastic that they are illuminating.
Style
Previously, undercabinet lighting was quite unsightly as it left bulbs sticking out. However, you can now get recessed downlights to go under your cabinets, which don't stick out and look stylish and sophisticated.
How to use Undercabinet Lighting
If you have countertops with a matte finish, you can afford to choose brighter lights, as the surface reflects the light more smoothly.
If you have a glossy worktop such as granite, you'll want to choose undercabinet lighting with a lower lumen value, to avoid the lighting producing glare.
The lighter your countertops are, the less lumen value you need, and the darker they are, the more lumen value you need.
Always attach the fixture to the front of the cabinet, to avoid creating shadows.
You can opt for strip lighting or bulbs – strip lighting gives off a smoother finish, whereas bulbs are better for task lighting.
Would you consider putting undercabinet lighting in your home?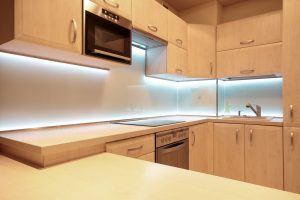 *this is a collaborative post*