My kids have A LOT of stuff, and most of it, they reassure me is needed and part of the essentials of life (can someone explain to me why a child needs three pencil cases please?) and that they use it all and it all really has a purpose. Things for school, things for dance classes, things for music classes, things for sports. So many things.
These things all need labels, so we don't loose them, and we need a lot of those too.
So, these rather cute Battersea Dogs & Cats Home sticky name labels from My Name Tags, are perfect for us. We can name and label everything and we are also supporting a really good cause, the welfare of cats, dogs and other animals is important to us, as a family of animal lovers and pet owners.
Battersea Dogs & Cats Home colour stickers
With My Nametags new colour stickers, there is no need to either iron- on or sew on the name tags. You can just apply a sticker to the clothing washing label, and it will stay on in the wash again and again. What was once a chore is now a quick and easy job. Our Colour Stickers can also be stuck onto shoes, bags, DVDs, iPods and other equipment. You could even use them on your dog's coat or your cat's basket. They are dishwasher, microwave and steriliser proof.
Whether you are overwhelmed by your to-do list, or just enjoy undertaking an easy and quick job, these versatile fun colour nametags are the answer to your labelling questions.
Battersea Dogs & Cats Home was established in 1860 and in over 156 years since then they have taken care of more than three million animals.
They now care for over 7,000 animals every year.
Their core mission is to never turn away a dog or cat in need of help.
There over 400 members of staff and 1200 volunteers who work across Battersea Dogs & Cats Home's three sites.
A percentage of the sales from our Battersea Dogs & Cats Home labels will go towards supporting their work.
The labels are so cute, and work really well, sticking firmly to what you need them to. The children LOVE them, and I am alsomost tempted to get some for myself, too.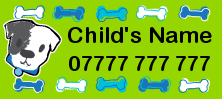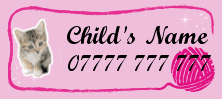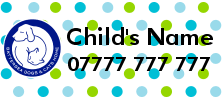 You can choose to have a cute kitten or puppy or the well recognized Battersea Dog & Cats home logo, with your child's name, a telephone number or their surname.
These are perfect for naming school items, and other belongings, that you need to keep track of, whilst supporting a really worthy cause. They are water proof, and long lasting and good value for money.
So, if you are looking for name labels for the start of next term (yes, I know, the summer holidays haven't started yet, but it's good to be organised) then we would highly recommend these.
Now, I am off to see if I can justify ordering some for me, I am sure there are things I need to put my name on, I wonder if I labelled my coffee then my work colleagues wouldn't pinch it when I am not there… (just kidding guys, they read here! 😉 )
*This is a collaborative post. We were very kindly sent some labels to try. All opinions are our own, images used with permission*