Now I am past forty, I am really realizing that I need to take my skin care more seriously, and look after the skin I have, to help it age as gracefully as possible, and prevent future issues if possible. I have quite dry skin but also struggle with oily areas, and I do have some fine lines and signs of aging. I have started to make more effort to look after my skin after years of being a bit complacent and neglecting it.
So the opportunity to have a specialist facial treatment with Skin Aspirations was something I was very excited about and looking forward to. I don't often get to spend time on having my skin looked after and I was interested to see what they did and how my skin would look. I booked in for a DMK Enzyme Therapy treatment session at their treatment center in London, and was excited to find out how it would go. I was not disappointed.

A little bit about the DMK Enzyme Therapy Treatment
This treatment restores skin to its peak condition. DMK is the only company in the world to utilise the beneficial effects of transfer messenger enzymes. Enzymes are living substances that regulate health and work with certain minerals in the body to form a natural system of antioxidants that fight corrosive free radicals. Properly formulated, they can remove dead protein, toxins and other effluvia from the epidermis using a process called 'reverse osmosis'. Where some cosmetic facial treatments may only act on the surface of the skin, DMK Enzyme Treatments works with the skin. The enzymes strengthen the structural integrity of the skin to create a healthy environment for cells to live and thrive in. DMK Enzyme Therapy exercises facial muscles and works to leave the skin feeling firm. It is suitable for a wide range of conditions such as ageing skin, sun damage, acne, rosacea and pigmentation.
The initial treatment is about two hours long, and whilst it's not a typical spa treatment where you are expecting to be pampered and relax, I found it quite relaxing and calming, and a nice break from the usual chaos of motherhood and work.
The treatment process was discussed with me (I had already been sent information, prior to the appointment as well) and I had to sign some paperwork to make sure I was OK to have the treatment, and that I understood what was being done. This is all proper and professional, and reassuring.
The actual treatments and process are listed below. It seems like a lot, but actually it all is part of the process and my skin really did feel great afterwards. The products are all carefully chosen based on your skin's needs and they all smelled nice and felt pleasant or stimulating on my skin. All the products are made with the highest quality botanical ingredients.
Milky Cleanse followed by Acu Klenz – to deeply cleanse the skin and pores
Desquamate – a gentle exfoliant to loosen and remove dead skin cells.
Sebum Soak – to soften the hardened sebum plugs in the pores which prepares the skin for extractions.
Extractions
Pore Reduction Drops – reduces pores and inflammation
Melanotech drops – revises uneven skin tone, dark spots, pigmentation.
Firbromax Vitamin C powder – is an exclusive formula of liquid droplets encapsulated in Silica particles. These encapsulated droplets form a dry, free flowing powder that is predominantly liquid. This powder will remain stable under ordinary temperatures or pressure. However, an increase in temperature above 30 degrees Celsius combined with gentle friction will loosen the links between the Silica particles, breaking the shell and releasing the liquid inside. It works like mesotherapy without a syringe. Tones, tightens, brightens. Vit C is used by fibroblast cell in the production of collagen and acts as an antioxidant and free radical scavenger to protect skin.
Contraderm – soothing, anti-inflammatory and anti-irritant crème.
Enzyme masque #1 – the signature DMK product which enhances your skins capacity to function optimally. This is the main part of the facial. Increses blood and lymph flow to the skin.
Pore reduction drops – reduce the appearance of open pores, reduce the inflammation
Beta gel – to address reactive, irritated or inflamed skin.
Direct delivery Vitamin C serum – key vitamin for the production of collagen which gives skin its firmness.
Eye tone serum – to treat fine lines as well as dark circles or puffy skin under the eyes.
Herb and Mineral Mist – it helps the oils and crème to penetrate deeper into the skin.
Contraderm crème – is a soothing, anti-inflammatory and anti-irritant crème.
DMK Sunscreen – to protect from UVR
It was lovely to lie on the bed, and have my skin treated. The processes and products used were explained as we went, and at no point was it painful or unpleasant. The actual application of the enzyme mask and it working, on my skin felt very strange, as it does dry and tighten and you can feel it working, but you are aware this will happen so there is no cause to panic. It meant I had to lie quietly and relax whilst it did it's job, which wasn't a bad thing.
I also found chatting about my current skin care regime and asking for suggestions on what would be best to use on my particular skin type was very useful, and came away with a much better idea of what I need to do to look after my skin.
During the treatment, and afterwards, we took some photos of my skin, and you can see the treatment has worked and how my skin has reacted. It wasn't painful at all, more tingly and tight.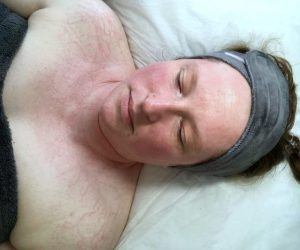 Keeping it real, I don't share photos like this often.
After the treatment was finished, my skin felt smooth, very clean, and tingly. It was a little red, but nothing alarming. The whole treatment felt invigorating and calm at the same time, and a week post the treatment, my skin feels clearer and cleaner, and actually, my normal hormonal breakout hasn't sprung on me yet, and my skin feels smoother.
The whole treatment was a really pleasant and invigorating experience, and I thoroughly enjoyed it. I felt like my skin was really looked after and I would highly recommend the treatment. I will be booking in for another one, as it really did work well for my skin, and mum's need to look after themselves, don't they?
*I was very kindly treated to a session for this review. All opinions are my own and information sourced and used with permission*