The summer holidays are here, and whilst it's a lovely long break, it can feel a BIT long for us long suffering parents, when the days aren't nice enough to throw the children out into the garden to play, or to get out and about and have fun. I am not a creative or crafty person so whilst I do do things with the kids, I sometimes struggle to come up with things to keep them busy when they are stuck at home. I recently had a knee operation AND the children broke up a week earlier than other schools so we had a week at home where we were pretty much housebound and whilst they were really actually quite good, we did have some moments where they were bored and I questioned my sanity! We survived, just.
Thanks to Lucky Gecko, though we did have some fun things to do, as they very kindly sent us some of their fun boxes to try out (well, technically for the kids, but I had to have a look and a play too)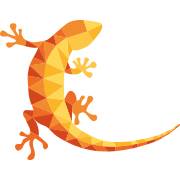 A little bit about them, then I am going to let the children tell you what they thought…
"Learning sometimes gets a bad rap. For many adults, it conjures up images of being trapped in a classroom, being talked at and repeating things like a parrot. It's the thing we had to do before we were allowed to do the things we wanted to do.
We're determined that the next generation won't grow up thinking like that.
Learning should be an adventure which will last a lifetime. It is what makes the world exciting. The more we know, the more we want to know. The more we search, the more mysteries we find.
Here at Lucky Gecko our mission is to inspire children to think differently about their education and take back control of how they learn.
Lucky Gecko Discovery Boxes are designed to get children connecting the dots between what they learn at school and the world around them. Knowledge doesn't (and shouldn't) break down into simple, separate chunks. Geography is History, History is Literature, Music is Maths and Sport is Science. Everything connects, and finding those connections is both inspiring and empowering.
Lucky Gecko Discovery Boxes teach children about the world, about themselves and about others.But they also give them the confidence to be curious, to dream and to think for themselves.
Who are we?
Charlie, the founder of Lucky Gecko Discoveries, worked for more than twelve years as a tutor – providing out-of-school support to hundreds of children aged between 7 and 18.As well as helping students prepare for exams, stretch themselves or improve their marks in a particular subject, Charlie was passionate about helping students develop confidence in their own, unique abilities. She found that getting them to believe that they could do something was often the key to making it happen.
Lucky Gecko Discoveries was founded on exactly the same principles. Our aim is to use our experience and expertise to inspire children to think beyond the classroom, understand their own learning style and embrace their unique set of talents.
We want to help educate, challenge and inspire the whole child – not just focus on getting them through their next exam. We want to get kids out in the world – exploring, inventing, creating and asking questions; believing in themselves and trusting in their abilities.
We believe learning should be fun. The world should be exciting. And imaginations should run wild. We only get one shot at childhood. Let's make theirs amazing."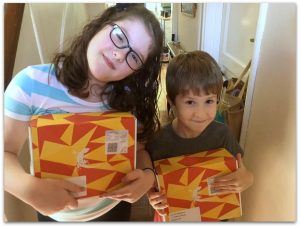 Excitement. Something has arrived that might keep us from getting bored!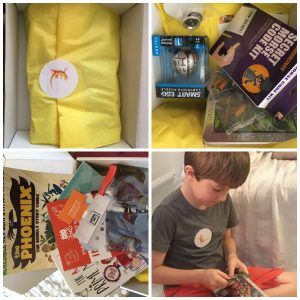 Beautifully wrapped and LOOK at the contents. These boxes seriously impressed the parent in the house, and were full of fun things for both the kids.
What did the kids think?
Emily says: My box was really good fun and had LOTS of different things in it. Some of the things were for me to do, and to help me learn and experiment and some of them were to keep me quiet and busy (a book and a comic) and a booklet with instructions for everything and puzzles and quizzes too. (there was even one for my mum to try and do, which she WASN'T very good at! I really enjoyed the book, and the making a robot craft and they were easy for me to do without bothering my mum too much!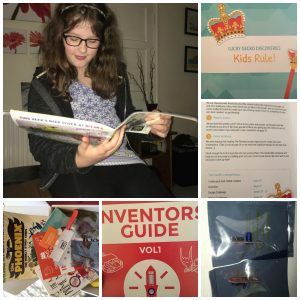 Matthew says: I really loved my box. It was so fun to open and find out what was in it. I like puzzles and things that make me think, and my favorite was the Morse Code kit (mummy had to explain what that was then we had fun trying it out) and I really enjoyed the puzzle egg and magnetic puzzle and I am playing with them lots.
Both kids really enjoyed their boxes and there is enough in them to keep them busy with different things for a good while. The boxes are aimed at old children and really are perfect for keeping minds occupied but also are a fun way of continuing their learning.
What did mum think?
Mum was REALLY impressed. These boxes are brilliant and good value for money for what comes in them. The thought and attention to detail is really impressive, the contents are well thought out and good for both girls and boys, and I have to say, I would quite like to play with some of the contents (if my kids would let me!) and these are ideal for holiday time to keep kids busy, or as a gift, or for when you want something fun but also to help with learning.
So if you are looking for a box that is fun but educational with lots in it to keep your kid(s) busy, then we would highly recommend these. We were delighted and they helped make a week of Mum being off her feet much more bearable and if you are looking for a subscription box for then these are worth checking out!
Thanks Lucky Gecko for helping us out and for giving the kids plenty to do!