Have you met Marge? She has rainbow hair, tells wild stories and she's the best babysitter in the whole world.
Things do SOMETIMES go off the rails when Marge is around but Jakey and Jemima don't mind that. After all, no one else could rescue a train, help Jakey's wobbly tooth or cause chaos at the zoo!
You may have read the first two books about Marge and her adventures, Marge in Charge and Marge and the Pirate Baby, and loved them, like we did. Now she is back, for more fun and chaos in Marge and the Great Train Rescue.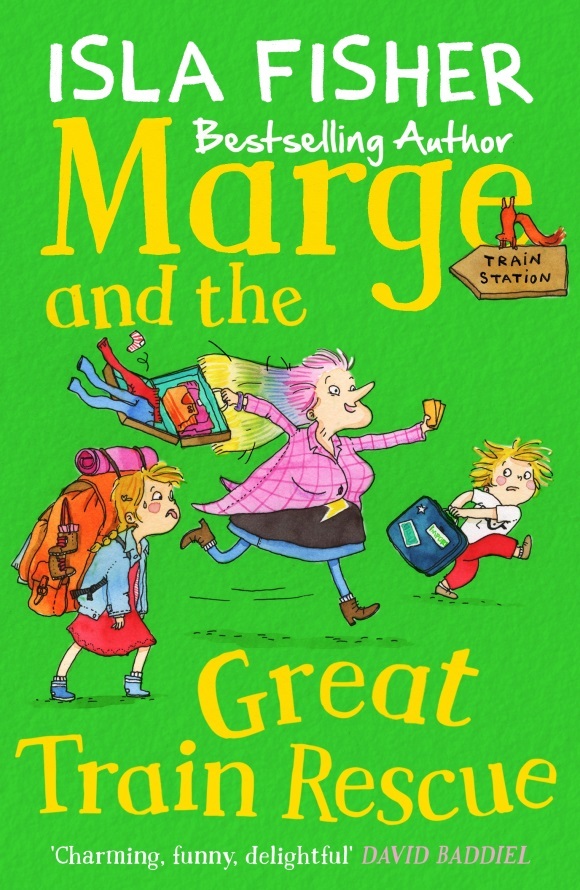 Written by the lovely Isla Fisher (I feel so old, I remember her in Home & Away) who began acting as a child and has worked in television and film for the past 25 years. She has appeared in Confessions of a Shopaholic, 'Home & Away', The Great Gatsby and Wedding Crashers to name but a few. She also trained at a clown school in Paris for two years. Isla has played many roles over the years but her favourite one has been being a mummy to daughters Olive and Elula and son Monty. Isla has been making up stories at bedtime for them every night since they were born and the MARGE books are a reminder of all the fun they have at bedtime reading books and sharing stories.
Matthew absolutely loves the Marge in Charge series and we have thoroughly enjoyed reading them, and this third book has gone down a treat these summer holidays. They are funny, and perfect for kids. Marge is so much larger than life it is hard to describe and her antics and crazy adventures and the things she gets up to keep you glued to the book to the end. The grown ups have enjoyed reading just as much as the kids, actually. She really is the wildest babysitter who keeps her charges and the people reading her stories, on their toes, right to the end.
These books are great for kids who love reading, but also want something funny, that will keep them entertained. The language is perfect and the plots and characters make you feel like you are part of the story.
So if you haven't got your hands on a copy, it's available now. What are you waiting for?
*we were kindly sent some books to read, but all opinions are our own*