Does anyone remember spirographs and using those plastic shapes to draw endless patterns in multicolours. Ok, so I am old, I know but that was a huge and fun part of my childdhood and kept me and my friends busy for hours trying to make the neatest and prettiest patterns.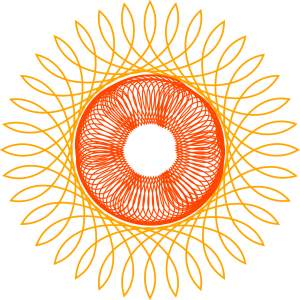 Remember making these? We thought they were just a fun thing to do, but of course there is actually maths involved (we didn't believe or want to know that at the time!)
The only problem was creating endless patterns was it could get messy, if you smudged, or made a mistake, and you needed endless sheets of paper and pens. It was fun but as my tweenger says "a bit faffy".
So when we were sent a rather fab SpiraLite kit from John Adams to try out, I was really excited. My kids could have fun creating patterns and designs but without the mess and need for paper and pens.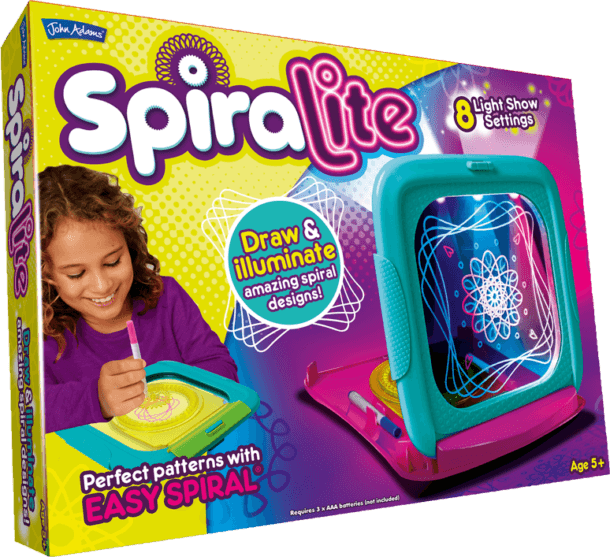 Spiralite allows you to draw and illuminate amazing spiral designs and create perfect patterns.Using Spiralite is easy, all you have to do is draw decorate, doodle and turn it on to make it glow. Simply wipe clean and draw over it again to create endless glowing designs.
There are 8 light show settings to give your SpiraLite patterns a different look and feel.
The kit comes with
Spiralite Light up drawing board
2 x Pattern wheels and holder
3 x Neon Marker Pens
Mirror card
Display and storage base
Step-by-step Spiralite pattern guide
Basically this is hours of fun for anyone who likes to create patterns and use their imagintion. The age range is 5+ and my 7 year old LOVED it, as did the tweenager (almost 11) but I also had a go (when they let me) and it's so much fun.
You can draw any number of designs, and then use the light function to light them up, to make them look even more impressive. You can also use the mirror to create the illision of repeating your patterns. It's great because you can wipe the patterns off when you are done and start again. The kit is easy to use and perfect for kids aged 5-11 I would say. (and grown ups too!)
Basically it's hours of fun those who like getting creative and it's also easy to transport and carry if you want to take it with you in the car or travelling (we took ours on holiday with us)
This would make a perfect gift for Christmas or a birthday, too, if you want something fun, or a little bit different and creative.
You can see how much fun we had, and the lovely patterns we created…

*We were kindly sent a SpiraLite to review*