Please do not tell my child to take their glasses off…
This is a rant. Aimed at no doubt the thoughtless amongst us.
My child wears glasses. She has inherited not only my short-sighted vision, but also astigmatism and a genetic eyelid condition that means that she will, for the rest of her life, either have to wear glasses or contact lenses, unless at some point she chooses to pay for expensive eye surgery (that isn't 100% guaranteed to work in our case, I have had laser surgery that improved the sight in my left eye, but I still need to wear glasses and will need eye surgery at some point. She may too)
She is generally a happy go lucky kind of child, we have hit the tween and pre-tween years though and she is becoming more conscious of her appearance and what she wears and how she looks.
She wears her glasses all the time. She has to. She can't really see without them.
We have just spent time and energy (and bless the NHS optical services for children, not that much money) getting her two new pairs of rather fabulous glasses. They have so much more choice than when I was a child, with only the ghastly pale pink or pale blue horn-rimmed monstrosities available to choose from (I have been wearing glasses from very early on, I think I was 6 when I got my first pair) although rather horrifyingly, the optical assistant helping us to choose said those styles are coming back into trend!!

Yes, I am old, I wore glasses very much like this…
She looks good in glasses and she is happy to wear them. I have always been positive about wearing glasses and both her father and I wear glasses all the time, so she is used to them being worn. She hasn't had any hassles from her peers at school about wearing them, and no one has said anything negative to her about them. She looks at her usual beautiful self wearing them. She can see with them and she feels confident and happy. She is rather delighted to be in possession of two pairs of new glasses, but also prescription sun glasses and swimming goggles too, because she needs them. We had fun choosing and trying them all on.
Glasses are part of her life. She has to wear them.
So when a well-meaning person says to her "let me take your photo, but take your glasses off first" or "would you like to take your glasses off for this photo?" it tells her something.
It tells her that she will look better in a photograph without her glasses on. It makes her think that wearing her glasses makes her not look as "nice". It makes her question what she looks like in glasses.
She doesn't need that. As a tweenager rapidly hitting puberty and teenagehood, she has enough to deal with from the world and it's expectations on her looks, what she wears, how she acts, and what she is, without another thing to add to the list of things to dent her confidence.
So, if you happen to utter those words in my hearing, towards her, you will hear me tell her "no, put your glasses back on, you look lovely in them, and they are part of you every day" and if you push back about her taking them off, I will deal with you quite sharply.
I was given a hard time about wearing glasses, I was the only one amongst my peers for the longest time who wore them, and they were thick-lensed and ugly until thank goodness people realised that children's glasses could be fashionable and nice to look at too. I was teased and made to feel that wearing glasses made me look ugly or weird. It made me unhappy to wear them for the longest time, and I embraced wearing contact lenses as soon as I was allowed to because it meant not having to wear the glasses I felt made me look stupid.
I won't have that for my daughter. She has to wear glasses, to be able to see. They are part of her, and she wears them just like she wears shoes or socks, or underpants because she needs to. They are lovely glasses, quite trendy and pretty actually, and they suit her face and she likes them, and she wears them happily.
I won't let you tell her any different…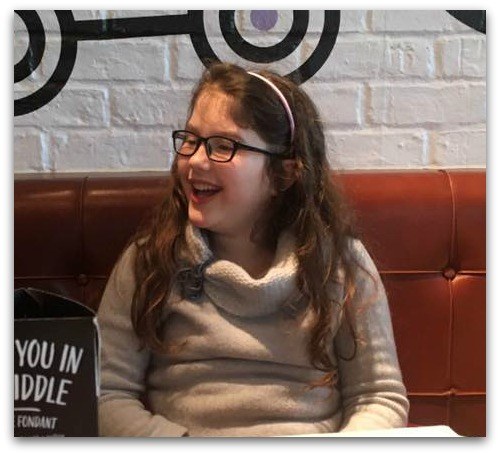 Please do not tell my child to take their glasses off. Unless it's legally required, I will get fierce. She looks just as beautiful with them as she does without.