You may have read our sad news about the death of our beloved hamster Scruffy, over the summer. We were gutted to loose him and we missed him a lot. The children kept nagging me to get another hamster, but I wasn't ready. He was mine, and I was very fond of him, and wasn't looking to replace him any time soon.
His cage sat in the corner looking empty and folorn, and I couldn't bear to put it away.
About three weeks ago, I decided the time was right and we needed to bring a new little hamster into our life.
So, off I went, with the tweenager to our local and usually very reputable pet shop. (I say this, becasue our branch of this chain has never caused us any issues, and they have also been very helpful to us and the animals in their store are well cared for, vet checked and also they take rescue pets and encourage people to home them)
I wanted one Russian Dwarf hamster. Wasn't too fussed about age or sex, and would have been happy to take a rescue if there was one that was suitable.
Meet Batman and Robin…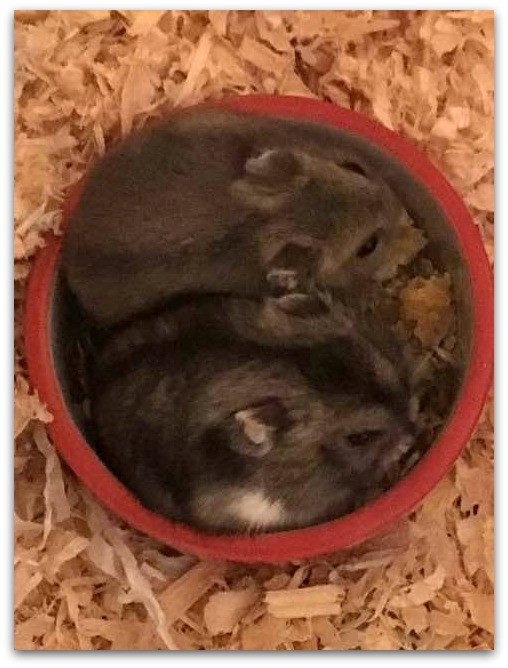 They are very sweet and so far are good cage mates and spend a lot of time snuggling up together. They do squabble, mostly over who gets the sweetcorn in their food bowl, but they play together and we think (we are pretty sure) they are both boys so no baby hamsters here (much to the children's disappointment, because clearly I don't have enough on my hands!) The dark one with the stripe is Batman, and the lighter one with no stripes is Robin. If you watch the video below, you will see their names are very apt!
Yup, I went to get one hamster and came home with two 6 week old male Russian Dwarf hamsters…
I blame the tweenager.
We couldn't choose one, and these two were snuggled up in their cage together and she persuaded me two was better than one (actually, for this breed, that's true and they are quite sociable and like being with companions) and she's terribly persuasive.
They are incredibly entertaining and funny, and frankly, behave more like bats, than hamsters and spend a lot of their nights hanging upside down.
Yes, we have a HamsterCam, and we spy on them to see what they get up to! We may make it a regular feature on our social media…
They are much more sociable than Scruffy, and I have handled them both and they come out to say hello, usually when we are eating breakfast and dinner and they both are quite vocal and chatty.
So, welcome to the mad house boys. We think you will fit in well round here… 😉