*this is a collaborative post. All images are owned or used with permission*
Planning a family holiday, a proper, get on a plane and go somewhere different and amazing, can be fun and challenging. Our first adventure as a family was to Thailand and we spent a glorious two weeks there, over Christmas.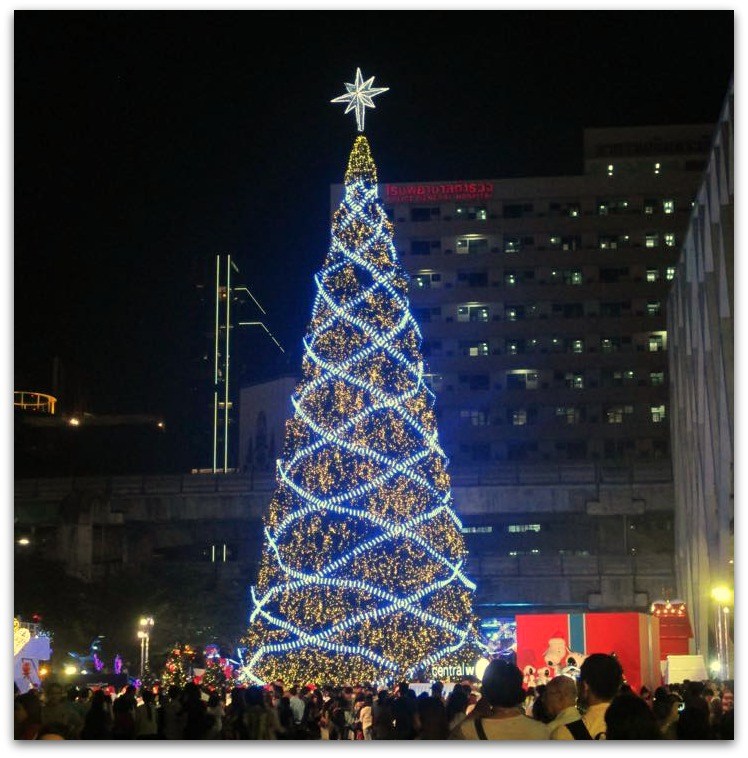 Christmas in Thailand, Colourful, exciting, and amazing!
We chose Thailand, and Bangkok, for several reasons.
My family lived there when I was a child, and my father has now retired there, so having him there to look after us a bit and show us around, being a bit of a local, and to make sure we got the most of our trip was a real bonus. We also chose Thailand because it's warm and we needed sunshine. I had some really fond memories of growing up there and wanted to take my children somewhere different but also familiar.
Thailand is a beautiful, multi-faceted country with a lot to offer for visitors. There is so much to see and do, and if you plan carefully and do your research, you can make it a perfect spot for a family holiday.
Accommodation can vary from hotel style to self-catering, and we opted for self-catering in a hotel/apartment set up, which meant we could come and go as we wanted but the room was cleaned for us daily, and we had access to a basic kitchen if we needed it. In terms of the budget it was very reasonable and works well for a family.
Flights are something you need to look into when traveling with children. You can do a day flight if you think your children will cope with being awake and manage a long journey, or you can do an overnight flight and try and get some sleep. The way we timed it meant we left in the evening UK time and arrived evening Thai time so we landed, had some food, went to our hotel, and went to bed, slept in and then were able to start our holiday feeling vaguely human and not too jetlagged.
We wanted a relaxed holiday but to be able to see and do as much as possible and for the children to come away with some amazing memories. Thailand is known for its culture and famous monuments and temples as well as being a friendly place and it's worth making a list of places you want to see and visit, and looking at costs, how to get there, time you need to spend there to really absorb the things around you and also factor in things like eating, weather and crowds. It can get pretty hot in the middle of the day, and some of the more popular spots can be very busy and crowded. Well worth visiting but just plan ahead. Thailand is a different experience for every person but finding the best things to do in Thailand is easy if you put effort into planning.
Getting around Bangkok itself is easy, the SkyTrain is incredibly efficient, air-conditioned and takes you pretty much anywhere you want to get to. It's cheap when compared to other similar systems and it works really well. We also used taxis here and there too. As a child, I remember the terrible traffic in Bangkok and riding in Tuk Tuks to get to a lot of places, and although the traffic is still heavy, the SkyTrain does make getting around simpler.
We did a mix of tourist and cultural visits, during our stay, trying to work around the children and what they would enjoy but also visiting childhood haunts of mine, and new places for the husband, who had never been to Thailand before. There are many temples, palaces and beautiful spots to visit and they are easy to access. Do plan though and make sure you have read up before you go, and that you are aware of simple things like clothing requirements (some places will not allow shorts to be worn, except for small children for example, but will help you if you need, and offer you a sarong so you are dressed appropriately and respectfully) and timings and also that in Thailand places like temples are very important to the people of Thailand, and part of their lives, so whilst you are welcome to visit and admire and learn, you also need to remember you are in a sacred and special place and respect that. It's a good thing for children to learn, I think. You can enjoy spending time in beautiful palaces or exciting floating markets or keep cool in some of the fabulous shopping centers all over Bangkok…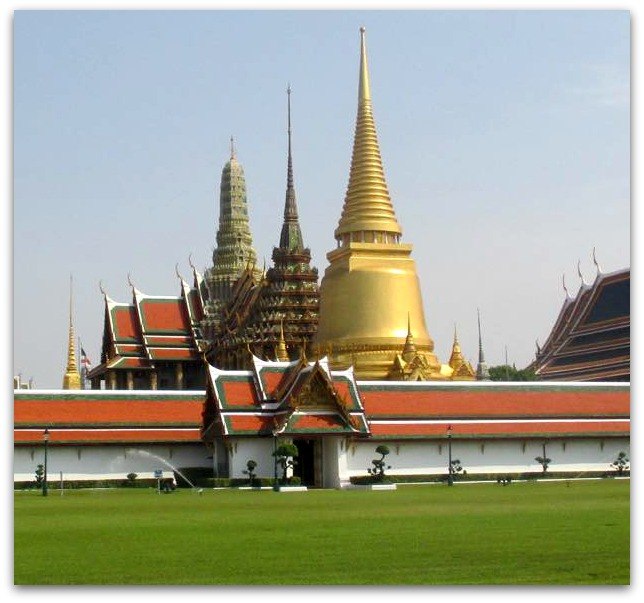 The beautiful and iconic Grand Palace. A must for any visitor to Thailand.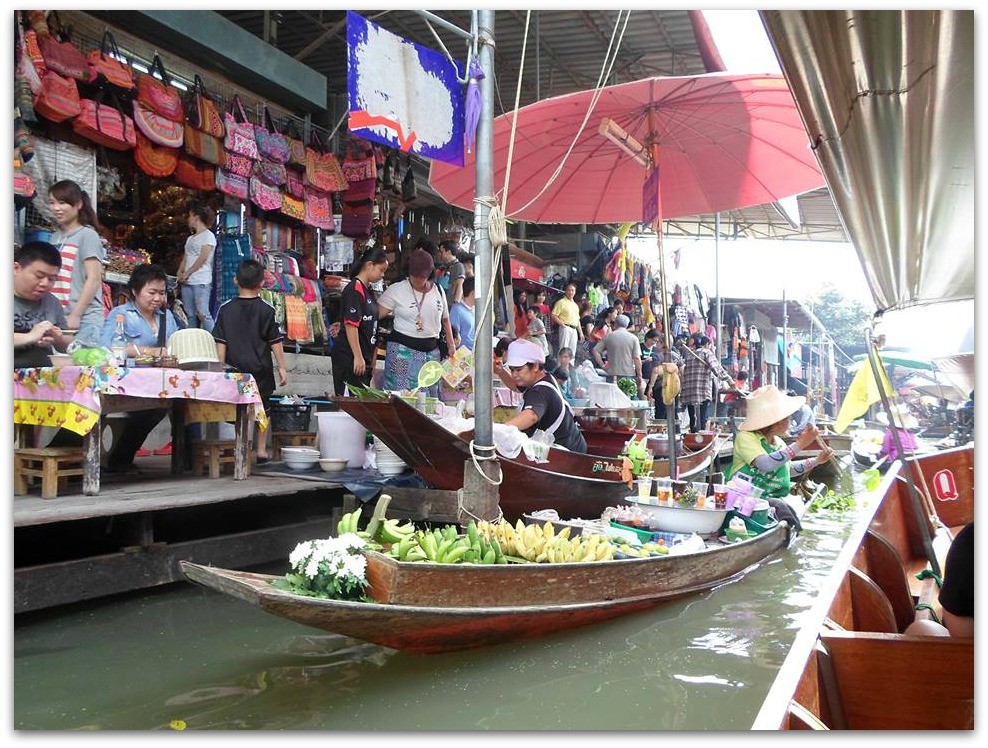 One of the famous floating markets, smells, sights, and sounds galore…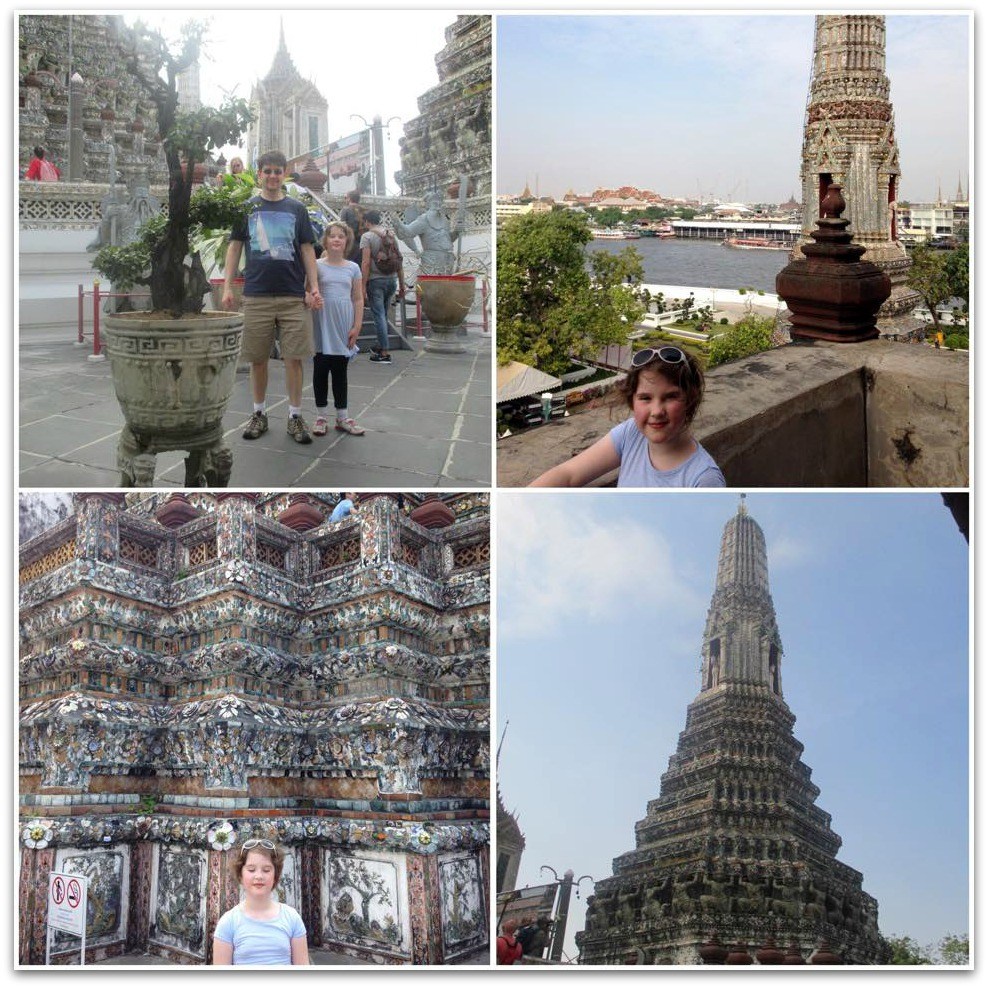 The iconic Temple of the Dawn, Wat Arun.
Eating out is amazing. I have to say it was one of the highlights of our trip, both for us, love Thai food and also for the children experiencing a whole range of things they had never tried before. You can pretty much find any kind of food you want to eat, and your tastes catered for. We did try to stick to eating Thai or local food, because, for us, that seemed the most obvious thing, coming to a country, you eat the food they have but there is a wide variety ranging from food halls and stalls (cheap but delicious) and restaurants and cafes as well as finer dining. You can budget and feed a family very easily or splurge and go and eat but still not break the bank.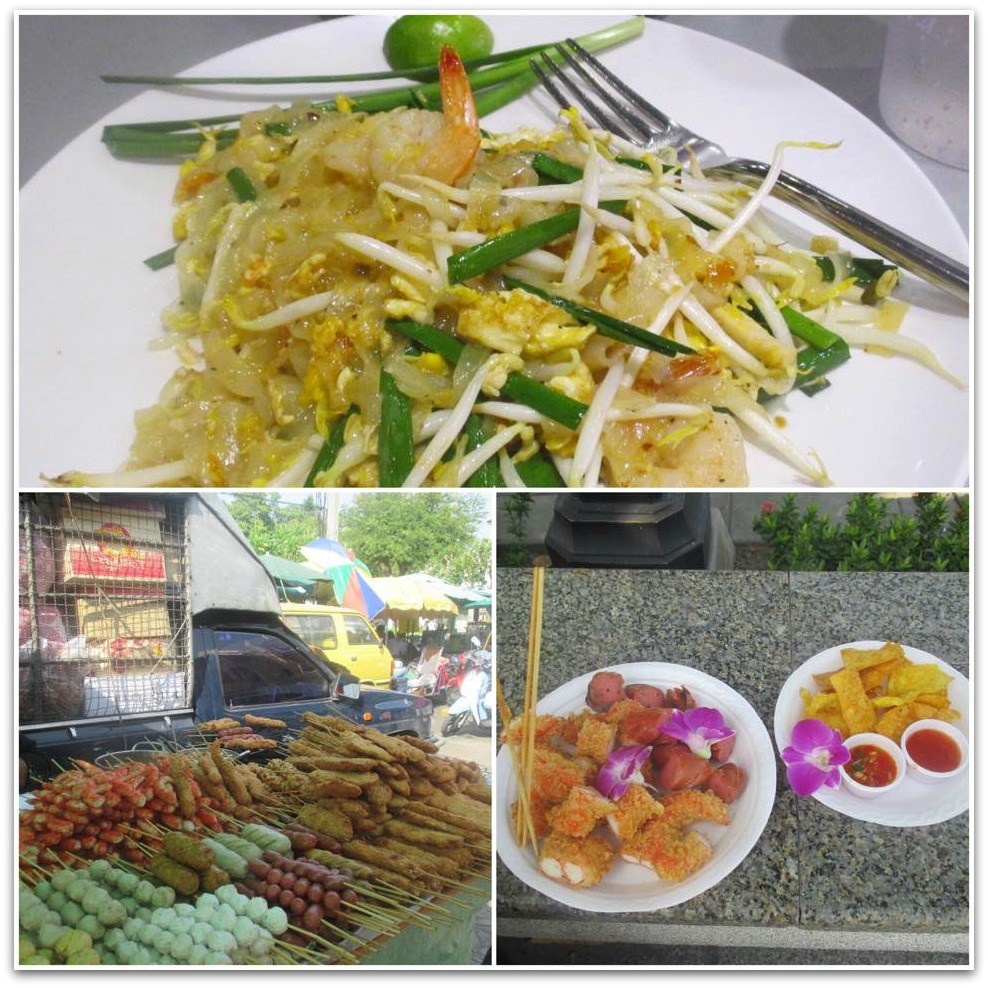 Some of the amazing food…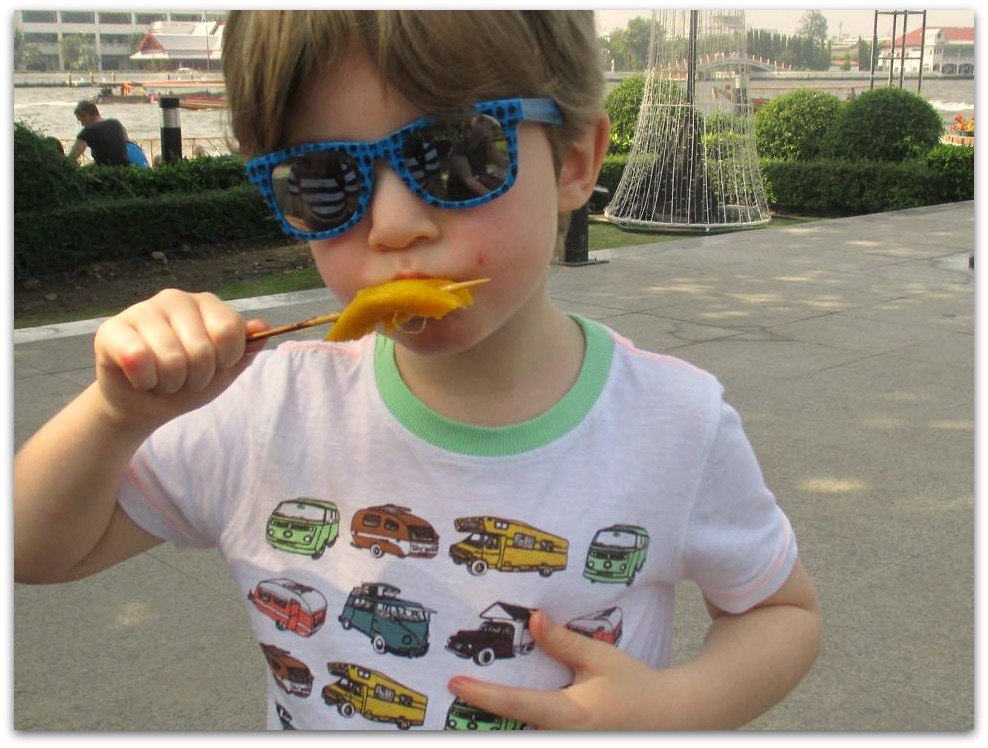 Trying new things
You can go beyond Bangkok and explore Thailand further, and visit resort islands like Phuket, (I think everyone knows that James Bond may have been there too)  and other scenic and beautiful places and really soak up all that the country has to offer. Places like Chang Mai with its temples and fascinating history or Koh Samui with its dazzling beaches and warm sea, so you can broaden your visit away from just being a city break. We are already planning our next visit and hope to spend some time outside Bangkok enjoying some family time on the beach and showing the children some of the amazing sights and experiences. Thailand truly is a place we would go to again and again, not just for the sunshine, but because it really does offer so much more for that perfect family holiday as well as making memories to treasure…