The husband and I got engaged, almost 17 years ago, in fact our "anniversary" is the 5th November. It seems like such a long time ago, we have grown up (and certainly older) together, since that day, when we were broke students (he was doing his masters degree and I was a full time student nurse) who just wanted to get married and spend life together.
It seems a lifetime since we looked at our budget and went off to choose a ring. I am not one of those who likes to be surprised and I was pretty picky about what I wanted (not in terms of cost, but more in terms of style) and we roamed a few shops until we found the perfect ring that didn't break our bank balance.
Picking a ring can be a tricky. It's supposed to last a lifetime, and be a symbol of something special to the one wearing it and the one giving it, but style, budget and taste have to be accommodated. Most people wear their engagement rings every day, so it's a ring that needs to keep sparkling and looking good long after the day they said yes…
If like me you prefer a more modern, simple style, that wills till stand the test of time, then something like this may be just what you are looking for. Striking but also romantic.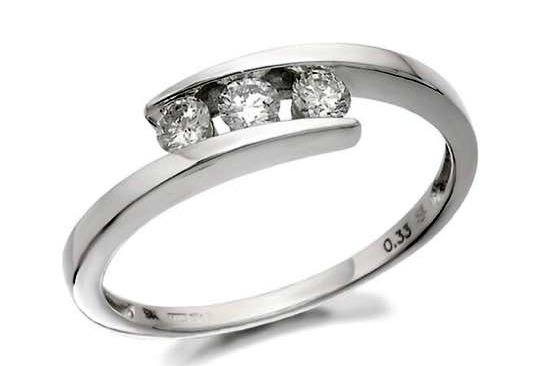 I like simple, flatter, more modern looking rings, they seem to suit my hands better.
The husband was and is a more traditional person when it came to rings, and if like him you prefer something classic then opting for a beautiful three stone ring, set in a style that never gets old, may be what you are looking for.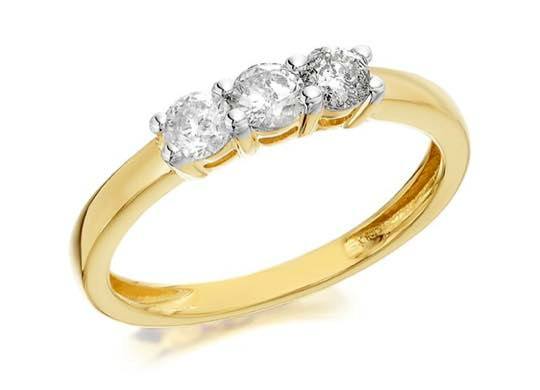 I don't think this style really ever will go out of fashion, it is a classic.
So, once you have got the ring, you are set. If like us, you know that yes is the answer already, and you have gone about things in a practical way, the ring is the final touch. If you are going to surprise the one you love, and you are getting the ring then asking, good luck. I hope yes is the answer. A beautiful ring you have put thought and time into choosing should make the moment even more special…
*this is a collaborative piece*