We have two cats. You probably know that by now, if you read this blog. We have Layla, who was my baby before the children arrived, and is grumpy, fluffy, has a taste for human food, and really doesn't like anyone very much. We also have Jasper, who is naughty, greedy, cuddly and makes up for his cat sibling in his love of anyone who will feed him and give him some laptime.
We tend to stick to one brand of cat food for both of them. At my vet's suggestion, we have tried to make them eat the rather expensive, designer cat food that you can buy at the vets, but neither cat will eat it. We tried. It failed. However, I am aware that the nutrition contetn of the brand we buy is not as good as it should be and as a responsible cat owner I do want to make sure they are getting the best food I can give them, so trying out a new food that they hopefully will like is always a bit of a fingers crossed time.
However, they tried and tested some cat food from Pure Pet Food and whilst I was impressed at the quality of the product, and how easy it was to serve, the seal of approval of course has to always come from the cats.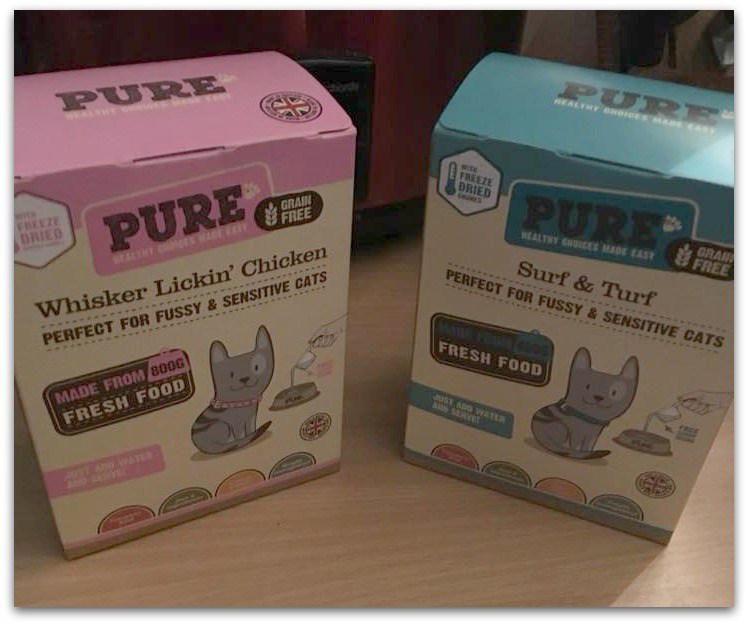 Their cat food is freeze dried and comes in a pouch, ready to just add water, mix and serve. Easy and convenient.
They say:
Our freeze dry technology allows for the preservation of meat with zero exposure to high temperature and pressure, retaining a real meat texture with zero preservatives.
Freeze dried recipes are the easiest way to give your cat the goodness of a raw food diet without the prep, and with no need to store in a freezer.
But what do the cats think?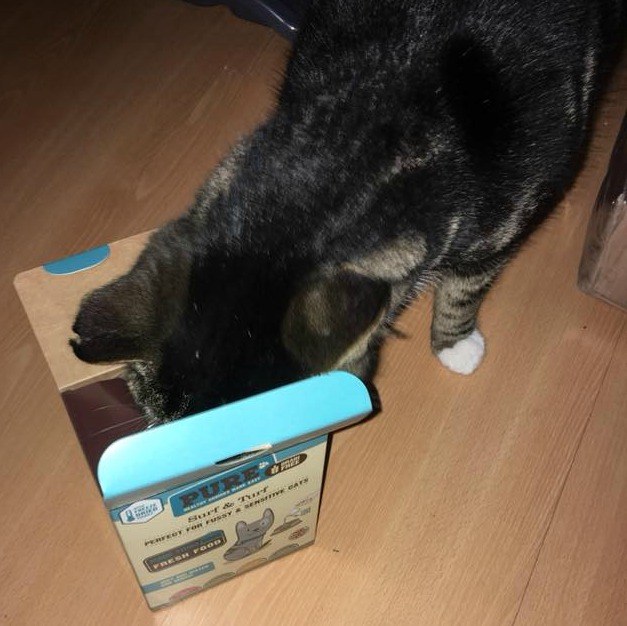 Jasper was keen, and didn't want me to put it in an actual bowl. He doesn't like waiting for his food…
They both love it. I was a bit nervous, but they both dived in and devoured it and seem happy to have the food on their regular menu.
Because Pure Pet Food make it their mission to provide the best and healthiest foods, it makes me feel good knowing that the cats are eating something that's nutritious and helps to keep them healthy.
"OUR MISSION IS TO MAKE HEALTHY CHOICES FOR PETS EASY AND ACCESSIBLE.
All of our meals are made with nothing but 100% fresh human grade ingredients., lovingly made at our very own human grade food facility in Yorkshire, UK."
I was impressed by how easy it was to prepare and although it comes freeze dried, when you mix and serve it, each portion is generous. It looks and smells good (yes, I know, it's cat food, but some of them really do smell pretty awful) and because the cats like it and will eat it, happily, this makes me happy too. We are gradually switching them over. It's freeze dried so it's easier to store in it's box, than the big packets of sachets or tins, and budget wise it works when compared to what we normally buy.
So, happy cats, happy owner. That can't be a bad thing, can it?
*They say never work with animals or kids, it's true. Layla would refused to play ball and would not perform for the camera, so I didn't get any photos of her enjoying her food. Jasper is less of a prima donna… 😉
*we were kindly sent some cat food to try, but all opinions are our own*