So, if you are a regular reader of our blog or follow us on our social media, you will know that we have had our ups and downs with sleep, over the past few years and sleep issues with our small boy. Thankfully those have improved, but we are now working on getting a solid and sensible and timely bedtime routine in place, to help make things even better. Bedtime can be a bit tricky, because of his sensory issues, so keeping things calm and orderly help.
We have never really used reward charts before, but we decided to give some a try to help give our boy some incentive towards a good bedtime and going to sleep, and these lovely ones by Tarquin & Troops are lovely, and just perfect for what we need.

"Give your child the tools they need to succeed with this Kid's Chore or Reward Chart or Printable Weekly Planner from Tarquin and Troops. Custom designed in artistic detail, it features a vibrant weekly schedule complete with a fun character to keep motivation high. Arriving as an editable PDF, it comes with a chore activity page and progress icons that will facilitate the completion of tasks. You'll love being able to create a custom chore chart to fit the needs of your family with age-appropriate chores your child will be more than happy to tackle. Empower your child with the responsibilities of family chores and accountability that will help them grow. 
Our task charts will make chores fun – mixing pleasure with responsibility and work. Giving children these task charts will give them a sense of fun and rewards with little icons that they can stick up once they have completed that daily task. Who knows they may even begin to look forward to fun new ways to tackle their daily routines."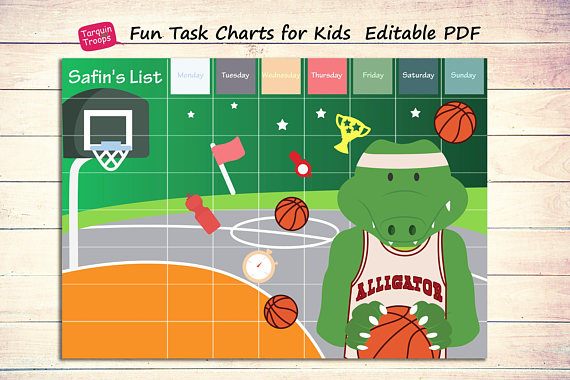 I think what I like most about them, is that you can order them online and download them, so there is no waiting for things to arrive in the post, you can download your chart, print it and start your new routine straight away. I also like that you can make the chart to suit your child and their needs and capabilities, and they can be involved in setting the chart up. This is a great way to add extra motivation.
Matthew likes the charts because he can help set them up, and also choose with me, what tasks (mainly sleep but we have also been using them to help him with his daily routines too) and he can feel very grown up ticking off his goals and things he needs to do.
Their colourful characters and bright illustrations are charming but also eye catching and great for kids and make them appealing.
You can combine them with your daily routine and make achieving those goals fun.
We have found using  a chart helpful in setting expectations around getting ready for school, doing some chores around the house, and mainly for sleep. Matthew has some things in place that he needs to "get through" nightly, and having the chart there to remind him, in a positive way is really useful. He loves being able to tick off his targets each morning and evening.
So, if you are looking for a fun reward chart, that's easy to use, straight away, to help you and your kids run life a bit more smoothly, we would highly recommend them!
(they also have some fab other stuff in their store, why not go and have a look?)
*this is a collaborative post, but all opinions are my own*