*This is a review post. We were kindly sent safe and gentle cleaning products from Nimble to try*
My children are not babies anymore, but because I work with families and small children in my other job, I do a lot of cleaning and clearing up of messes still, and I do clean up mess at home, too, my kids may be big but they still can cause sticky messes about the place.
I am always on the lookout for good, safe but also gentle cleaning products. I need stuff that has oomph, to clean up sticky messes, but I also want to know that what I am using is safe to be used around and for little ones. As a parent myself, I am always conscious of what my children may or may not be exposed to and I know it's a concern for other parents too. We want tough but safe when it comes to cleaning for our kids and I like to know that what I am using isn't going to be harmful. When I clean toys and surfaces I like to think that little hands and mouths can touch them after I am done! If I clean a toy, and I know it's likely to be going near a little mouth (because kids do that) I want to know what I have cleaned it with won't hurt them and expose them to harsh products.
safe and gentle cleaning
Nimble make a surface cleaner that is strong and tough but contains no bleach or harsh chemicals.
Created by a concerned uncle who was worried about the harsh chemicals his nieces were exposed to around cleaning products, they are safe and effective to use on surfaces, toys, and they even have products to clean up feeding bottles and cups and other things.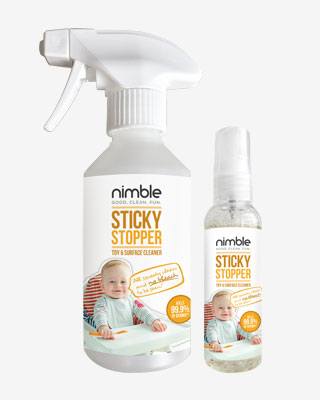 Sticky Stopper is an excellent surface cleaner that comes in a travel size as well as a normal size for around the kitchen, or nursery.
"Nimble Sticky Stopper is an antibacterial toy & surface cleaner that cleans and disinfects without using bleach!
No more sticky mess from food and drink spills on your children's toys, tables, and play area.
Powered by plant-based cleaning ingredients
Uses lactic acid, a natural disinfectant derived from fermenting sugar
Safe to use: bleach-free, fragrance-free
Perfect to clean and disinfect toys, tables and surfaces including carpets and floors
Removes sticky and greasy residues from food, chocolate, fruit juices, milk, and more"
I have to say I have been very impressed with this, and it's cleaning capabilities (I run toddler groups, it gets pretty messy and sticky!) and it works really well."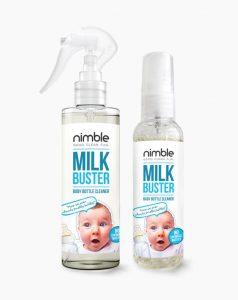 Milk Buster is a great product for cleaning milk bottles, cups, and other items that come into contact with sticky milk and drinks. You can even use it on coffee machines (this is win for me, personally, I hate cleaning our work and home coffee machine!)
"UK's award-winning baby bottle cleaner that removes yucky milk fat and proteins from plastic, making your baby's bottles free from cloudiness and smelly odour.
Powered by plant-based cleaning ingredients
Free from chemical nasties like sulphates, dyes and fragrances
Easy-spray format targets nooks and crannies, especially on teats
Works on both formula and breast milk
Cleans your child's sippy cups, utensils and even your breast pumps, coffee machines and protein shakers!
Great value! Lasts up to 100 washes or 2 months with regular use.
Unlike regular washing-up liquids, this is specially made to target milk residues from plastic."
This stuff is great for cleaning the cups we use for snack time with the toddlers, and also we do occasionally have parents asking to clean their babies bottles so it's handy to have for that.
Both products come in full size, ideal for home and work, and also handy travel size bottles, perfect for nappy bags, going on holiday, or just to keep in the car and cost wise they work out really well compared to other cleaning products too!
You can also read more on what I use in my kitchen for cleaning…