*we were very kindly sent some products to try. All opinions are our own*
The tween and I love milkshakes, but we don't make them very often, at home, because the husband and the small boy have a cows milk allergy (not life threatening, but enough that they avoid all cows milk products) and so for us, to be able to enjoy a good milkshake, is a bit of a treat. There are places where we can go for a milkshake, but sometimes, it's nice to have something in the fridge for just when you feel like it.
Shaken Udder make delicious milk shakes which are just perfect for this.
They make delicious, creamy, moreish shakes and they also have perfectly sized shakes for lunchboxes and kids treats.
The kids milkshakes are made with fresh British milk and real fruit or Belgian chocolate and have a lot less sugar in them than a lot of drinks aimed at kids, so they are school approved and perfect for lunchboxes. This makes the kids happy and mum happy. The tween loves them in her lunchbox or as an after school snack treat.
Their bottles of milkshake taste amazing, and are smooth, creamy and delicious and come in some very tempting flavours. Chocolate, salted caramel, vanilla, strawberry and clotted cream, and banana. I personally loved them all but the salted caramel would come as my first choice if I HAD to choose one!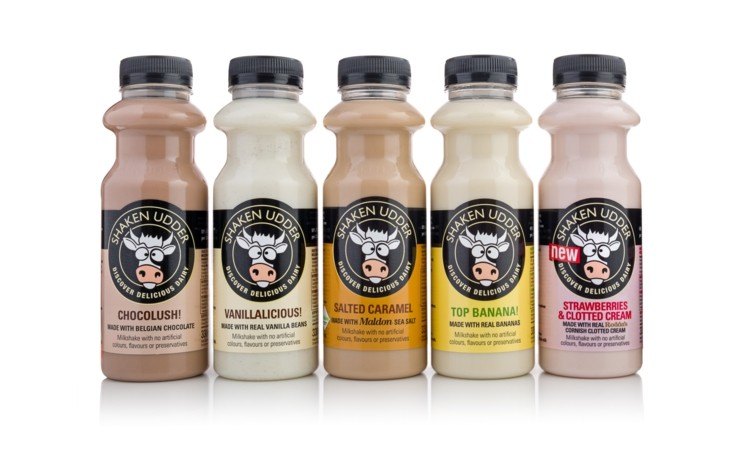 The vanilla milkshake actually works really well in a cold brew coffee, too, I discovered and we also experimented with freezing them into ice lolly moulds which worked really well for a creamy and refreshing treat but to be honest, you will just want to drink them as they are. They really are yummy!
Because they are freshly made, and contain no nasty artificial flavours or colours, you know you are not only getting a delicious shake but something good, too.
It's not often the tween and I agree on something these days, but we both agree these milkshake drinks are the best we've tasted in a long time and they deserve space in our fridge. If you love milk drinks, then we would say these are worth a try!