*I was kindly sent an item to review. Images are my own, and I was not paid to write this post*
I have an allergy and I wear allergy alert jewellery so people around me are aware.  It's a relatively common allergy, but it can be potentially fatal, if it's not known about.
I am allergic to penicillin. This is something I developed when I was in my early teens, about 13, and was possibly due to over exposure to antibiotics (back in the days when they were used far more freely than today, now we know that we need to use them more judiciously) and there also may be a genetic link, because some of my family also have the same issue.
The last time I was exposed to penicillin, when I was put on a course of it, for a rather nasty chest infection, I woke up after taking less than one day of the medication with a a classic rash all over my body, called hives, which were angry, red, raised, and itchy, and spreading all over. I also had a very itchy mouth and my tongue felt weird, and my heart rate was very elevated. I was taken to the doctors, and an allergy to penicillin was diagnosed. I then avoided taking it, and had to make sure that I was not exposed or given it, because I was told that I could react even more severely the next time.
When I was a nursing student, I was working on a hospital ward, with another nurse, and she had to set out some medication to give. I used to take special precautions when giving anything containing penicillin, wearing gloves, washing my hands etc, and had had no issues. However, on this occasion she drew up some of the medication we were going to be giving, and accidentally squirted some on my arm and some of it hit my neck and cheek. Within minutes I had a rash, that started to spread and my mouth felt tingly. This was pretty scary. Thankfully, I was also in the right place and they were able to grab a doctor who prescribed and gave me medication to ease the reaction, and help me.
So, from then on, I have always been super cautious around penicillin.
I should wear a medical alert bracelet, because if I am ever in a medical emergency, they need to know that I cannot be given penicillin, and whilst this is all written in my medical notes, in an urgent situation, those may not be available.
I have worn a few medic alert items over the years, and to be honest, most of them are fairly clunky, boring, don't look that nice and whilst you HAVE to wear them, to keep yourself safe, and they have to be visible and prominent, it would be nice to wear something that helps to save my life and looks nice at the same time.
That's where Butler & Grace come in…

They say:
Ever get grumpy when you can't find a personalised bracelet with YOUR name? Or want a special gift for your other half that features your anniversary date or a quote that means a lot to them. 
Many people are also tired of medical ID bracelets that scream "emergency" or have a design that just isn't fashionable. They don't wear it because they don't like it, they feel embarrassed at school …or it doesn't work for their job or hobbies. So they aren't protected.
We opened our doors in 2014 with a range of jewellery that can be personalised in loads of different ways. Be clear about your medical information, contact details or create a personal message for someone you love!
Founded by Tanya Butler – with a background in marketing, product design and commercial management – we are committed to offering products that deliver both fashion and function. 
And as someone who suffers from a hidden allergy who has to wear medical alert jewellery, I say "HOORAY".
Their site has so many lovely items to choose from that can be customized to be a piece of medical alert jewellery you will want to wear but that is still useful and stands out for when it's needed to make sure people know you have an allergy or medical need that they need to take into account.
They very kindly sent me a bracelet to wear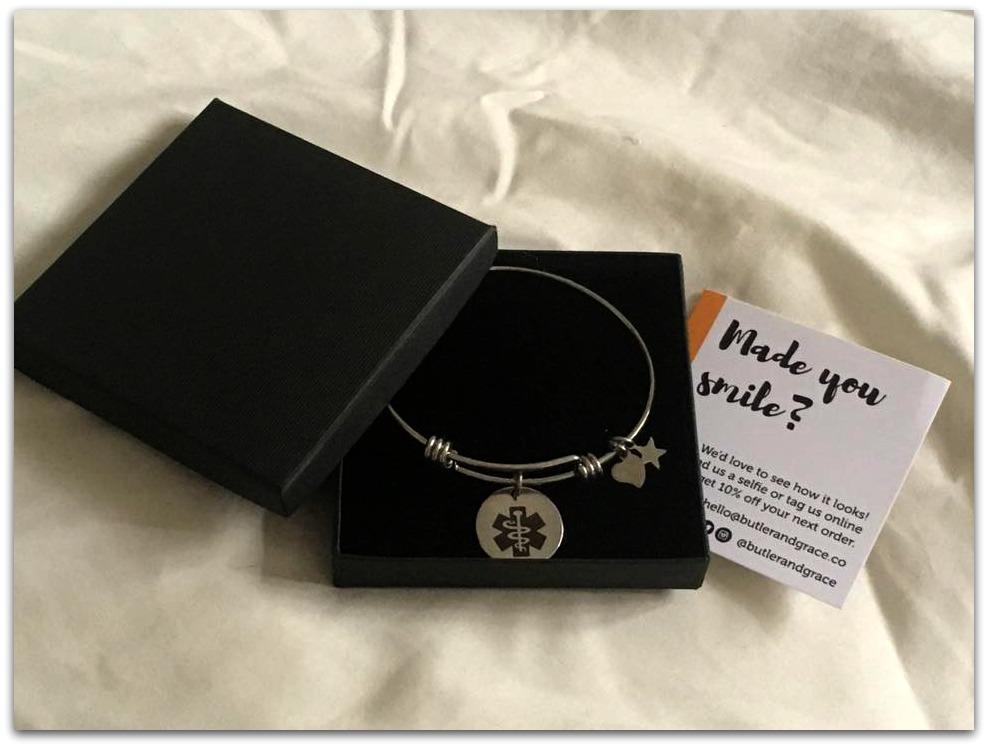 This is most certainly not boring or clunky medical alert jewellery…
They have options to suit all styles and budgets, with items to suit kids, and adults, and you can choose what you want and make it personal to you, with all the details you need, to make sure your medical needs are known in an emergency. It is actually quite hard to choose, because there are so many options, for all tastes and needs. Some people will want practical and very sturdy, and others will want more delicate and something that will fit in with their everyday look and also can be worn when you are dressed up. Their site is easy to use and you can specify what you need engraving wise to make sure you get all the details right.
I opted for something mid between stylish and function and this lovely bracelet/bangle is perfect for me. Strong enough to cope with my every day life, but dressy enough not to scream "medical alert", yet it still has the recognizable medic alert logo, so in an emergency, people will be alerted to my needs.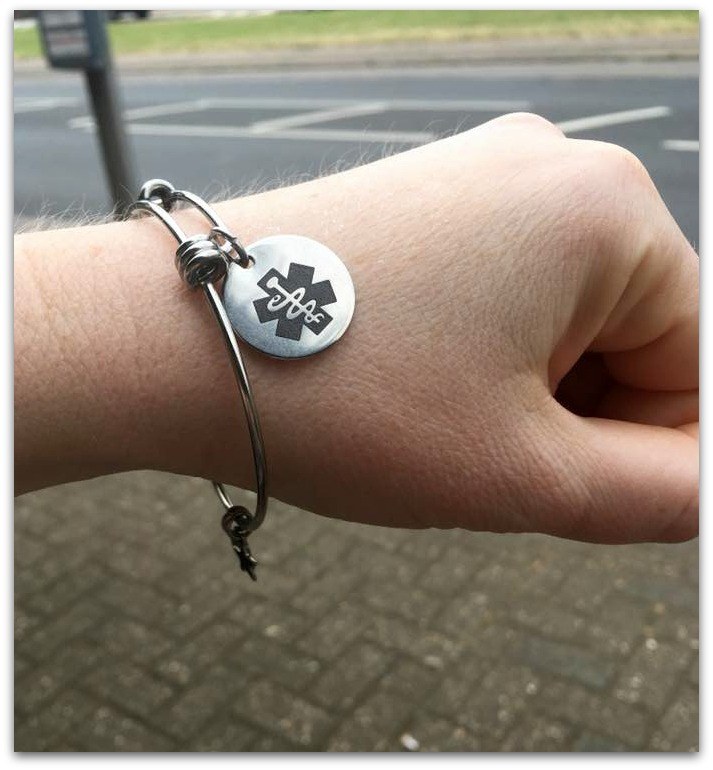 Delighted with my medical alert bracelet, and I now have a happy husband too, because he hates it when I don't wear one, just in case something happens to me. 
Being able to customize and design your own medical alert jewellery is such a clever idea and I think this would work so well for teenagers and young people who are reluctant to wear the traditional and not so trendy looking standard items, but REALLY do need to wear one. This is also great for people who are fashion conscious but still want to make sure they are safe.
The quality is excellent and price wise, when compared to the standard items you can buy, it's good value for money, especially when you are getting an item that is made just for you and exactly as you want it.
These would also make a great gift for someone, who has an allergy or medical condition, who might like something pretty or special, to wear.
So, if like me, you need to wear a medical alert, but are that bit fussier about what you wear, or you want a unique but functional item, then I would definitely say you need to look at what they have to offer, I am pretty sure you will find something you like. I know I did, and I am happily wearing mine.