Father's Day is almost here. You may have forgotten, or in the craziness of life, getting a card to the dad in your life, may have slipped your mind and now you are wondering how you get a message to them, at the last minute and there is not time to send a card. What to do?
That is where Paperless Post comes in handy and can help you out…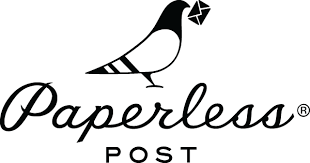 You can send any greeting, announcement, invitation, or message using one of their many designs, customized to your own style and with your own message. They have a vast selection of styles to choose from and you can use it for anything from a wedding invitation to a birthday greetings.
Because you set it all up and send it online, you can schedule it for just when you want it to arrive in someone's inbox, and you are kept informed when it has been sent and opened, so you know it has got to the person you sent it to. It is very easy to use, and a cost effective way of sending a message or greeting. I also think it's better for the environment, too.
Perfect for Father's Day. Set up a greeting, make it special to you and the person you are sending it to, and then hit send or schedule and you know that the dad in your life will get a lovely greeting in their inbox, just in time for the day itself. You can even add your own images to make it that bit more special, too, if you want to.
This is the part of the blog post where I confess that things have been more that a little crazy round here these past few weeks and we had totally forgotten to sort and send cards to our dad's, one of whom is in South East Asia, and the other in South Africa, not exactly easy to get a card to quickly, so Paperless post has helped us to at least get them a greeting that will arrive in their inboxes first thing on Father's Day and they will know they have not been forgotten and we still love them!
Problem solved…
*this is a collaborative post*