Most women like to wear nice lingerie. It makes them look and feel good and, usually, it also pleases their partners. But, finding and buying the right lingerie can be tricky, which is one of the reasons so many women do not really like going shopping for it. However, it need not be like that. All you need to do is to follow these lingerie buying tips.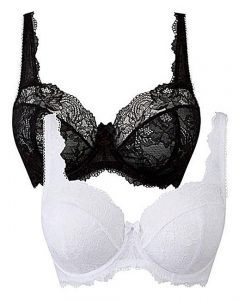 Try out different cuts and styles
Over time, everyone changes shape. We all lose or put on weight. Sometimes we change the way we exercise or how much we do. So, it makes sense to occasionally try on different cuts to see how they look and feel on you. You will find examples of most styles here.
Measure yourself before going shopping
Nobody wants to waste time trying on items that have no chance of fitting them. So, before you go lingerie shopping take the time to measure yourself properly. You can learn how to do it here. This Pinterest board contains links to several infographics that explain exactly how to do it. There are also a couple of diagrams on that page that you can use to help you to decide what style of bra to buy. If you need to, ask your partner to help you with this task or visit a local retailer and get yourself measured professionally.
Shop online for a better choice
It is well worth buying your lingerie online. Doing so gives you a much better choice. You will find it far easier to shop around and grab a good deal. Provided you buy from companies who offer a fair and easy-to-understand returns policy you should have no problems. However, be sure to read the returns policy carefully to make sure that all of the items that you buy can actually be tried on at home and sent back if they do not fit.
Think about the clothes you are going to be wearing
Think about what you are going to wear over the top of your lingerie. This is particularly important if you are buying something to wear under a special dress or outfit. Most women do not want the line of their lingerie to show. For sure, nobody wants to wear anything that cuts in and creates unsightly bulges that can cause your clothes not to hang properly.
Take your comfort into consideration
When choosing lingerie, comfort is an important consideration. Thin straps can look nice. But, after a few hours, they tend to cut in and can cause painful red marks, which hurts and certainly does not look sexy.
Make sure your lingerie offers enough support
There is no point in buying a flimsy bra if it does not offer enough support. You will not look your best and are likely to find it uncomfortable to wear.
Check the care label
Sometimes lingerie needs to be hand-washed to stay in good condition. If you are not the type of person who has the time to do this, the best approach is to buy the kind that can actually be machine-washed. You also always need to read the labels on each garment and make sure you wash them according to instructions. If you are washing lingerie in a washing machine, investing in a lingerie bag to keep things from getting tangled or damaged is a helpful idea.