We have lived in our current home for a long time, and we have put a lot of time and effort into making it look and feel like a place we love to live in, decorating rooms, trying to keep on top of the large garden we have, and
One thing we have never done, however is personalize our front door area, and I have always wanted a number sign for our house that is unique to us and that shows a bit about us, when someone arrives at our home. I have always wanted a fun and cute house sign for our door but with the busy-ness of life, it has just something I have never got around to. It has been on my to do list for a long time, and if I said that was before the children were born, I would not be lying.
So when the lovely people at Village Green Signs asked us if we would like to have a sign made for our house, I jumped at the chance, and was very excited to choose something that we felt would suit our home.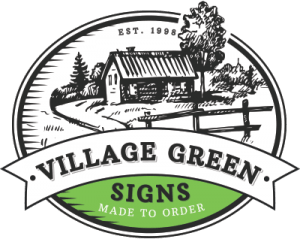 They say:
We produce beautifully designed house signs cast in resin, to add grace and style to the front of your home for a life time.
The charm and authenticity of traditional cast iron signs has been replaced with the added benefit of using a tough and durable resin, resulting in a sign that will not rust or degrade and is completely weatherproof.
You can choose any size and shape of sign, then add a motif of your choice along with your house name or address details. We will then produce a one off mould for your personalized plaque which incorporates your chosen raised numbers, letters and motif. Once the sign has been cast in the resin it is hand painted to a very high standard by our talented artists using permanent acrylic colours.
All the letters and numbers are hand finished in a professional metallic gold paint, which is then sealed.
You can
800+ designs available
Raised motifs give a 3D effect
Tough, durable and 100% weatherproof
Hand-painted by talent artists to your specification
Cast-iron effect without the high price
Free UK delivery (international delivery available)
You choose exactly what you want, design wise, and from their wide range of beautiful options and they create and hand paint the specifics for your sign to make it personal and unique.
Their customer service team are lovely, and efficient, and it's a simple process to order the sign or number sign that you have chosen, exactly how you want it.
And when our lovely sign arrived we said…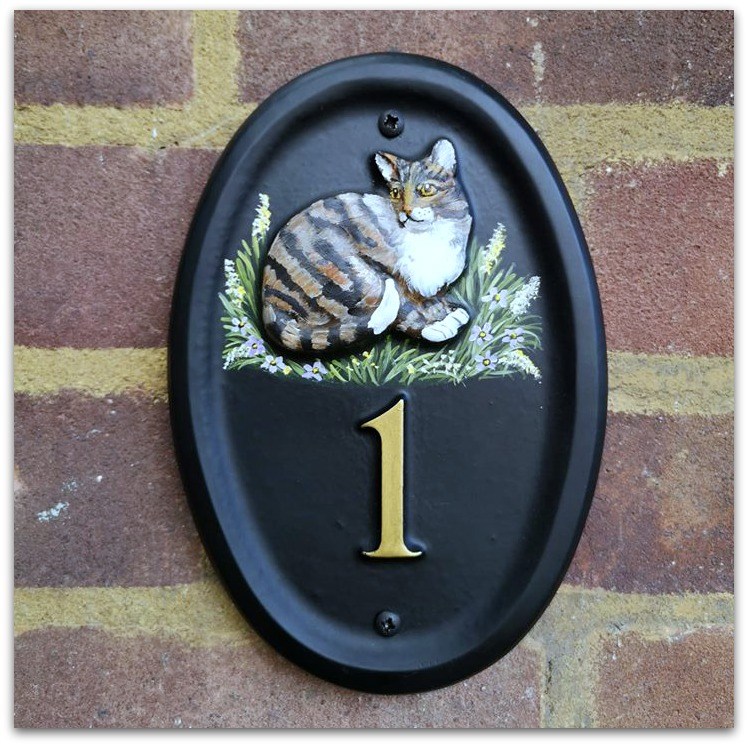 WE LOVE IT.
We think it is unique to us, and our family home. It's a pretty clear sign that we are a house of cat lovers, as you approach and of course, you can see the familiar face of one of our feline family members there too.
The sign is beautifully made, with attention to finer details and it's a beautiful item that will last a long time and looks perfect outside our house. We are delighted. We have had a few people comment on the sign, since we installed it, saying how lovely it looks and how it fits our home and family.
I can't believe it has taken me to finally get a personalized to use number sign outside our home, but I am thrilled with what we finally have, and Village Green Signs really did a fabulous job. If you are looking for something for outside your home, to add the finishing touch that you want, then we would definitely say they can help you find the perfect sign for you.
*This is a collaborative post, we were kindly sent a product to review, all opinions are our own*